Grade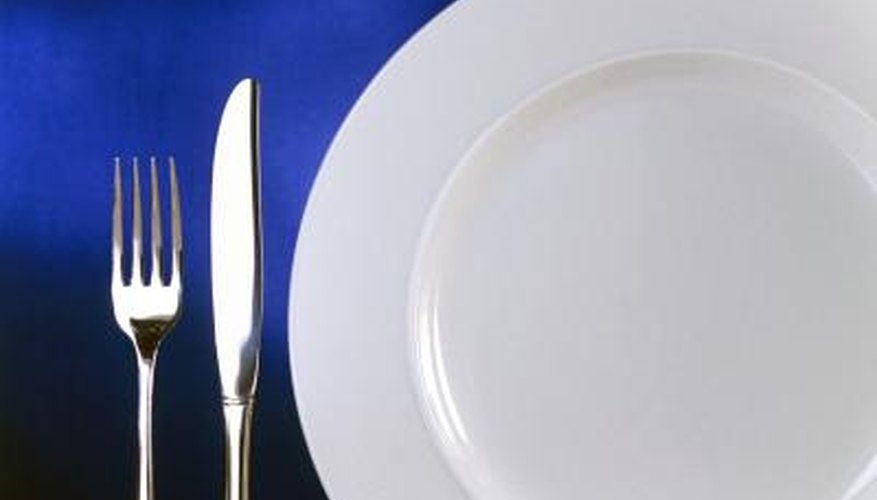 Stainless steel is an alloy that may contain varying quantities of chromium, nickel, molybdenum, manganese and steel. It has a long life and is highly resistant to corrosion. Stainless steel flatware has replaced fine silver in many homes for both casual and formal use because of ease of care and beauty of design. The quality of stainless flatware is determined by the weight and the grade of steel.
Stainless steel flatware will be designated as 18/10 or 18/0 and occasionally 18/8. The first number is the percentage of chromium, and the second the percentage of nickel. Chromium affects hardness and nickel affects corrosion resistance. The higher the nickel content, the better the flatware. The percentage of nickel and chromium does not affect the weight but it does affect the price. 18/10 flatware will have a brighter polished look and is more expensive. 18/0 flatware will be subject to corrosion and will not be as durable.
Weight
The weight of flatware is a result of design and gauge of the steel. Flatware may be advertised as heavy, medium or light weight. Lighter weight flatware will have a thin gauge, bend easily and will be economically priced. A heavy gauge utensil will feel good in your hand and should be well balanced. The best way to tell the weight of flatware is to simply hold it in your hand to evaluate the feel and grip of each piece.
Care and Maintenance
Because stainless steel is so durable, very little maintenance is required. However, even the best stainless steel flatware will get stained, pitted and show rust spots if it is abused and neglected. Avoid abrasive pads and scouring cleansers as they will remove the finish. Avoid products with corrosive agents like bleach or citrus-based cleaning agents. Some manufacturers recommend avoiding lemon dishwasher soap. Use a mild detergent and wipe dry immediately after cleaning to avoid water spots. There are commercial stainless steel cleaners available for difficult or built up stains.
Size and Style
Flatware that is labeled Continental or European is larger than American flatware, with the knives and forks being up to 1 ½ inches longer. Continental flatware is often used for formal settings. For formal settings, look for highly polished high shine flatware with elegant embellishments or gold toned accents. For a casual setting, choose brushed or matte finish in simple designs with clean lines. For picnic and outdoor use, or circumstances where your flatware will be roughly used, choose an economical set of 18/0 stainless steel that can be purchased open stock or in large sets.