What Can I Do About Slippery Tile Stairs?
Ceramic tile is among the most widely used flooring options throughout the home. Its resistance to wear and tear makes it ideal for high traffic areas, particularly the stairs. It will resist water damage, scratching and warping, and has one of the longest life spans of any flooring product on the market. Under certain conditions, it tends to become slippery, a condition that might become dangerous. A few simple additions will aid in reducing or eliminating the slip factor on tile stairs.
Carpet Runner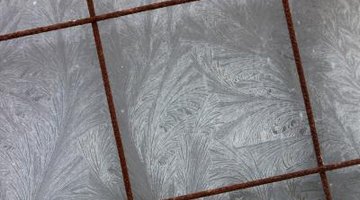 A carpet runner is a simple addition that is affixed to the stairs and will prevent slipping on tile stairs and will prevent stair treads from wearing out. The design of the runner will determine how the runner is fastened to the stairs, but some methods include nailing or using glue strips. They are designed to be long and narrow, an ideal style for the stairs, and are a fairly inexpensive addition. These pieces are available in a wide selection of colors, sizes and textures, and will add a bit of visual interest to the staircase. The right selection will also create a sense of harmony with other room decor.
Slip Resistant Tape
Slip resistant tapes are available in a variety of sizes and a few different colors and are a relatively easy way to decrease the slippery nature of tile. It is not the most visually appealing look, so its most appropriate on outdoor or industrial areas where aesthetics aren't as important. These tapes are designed with an adhesive back and are cut to fit the space requirement. The application process takes just a few seconds and supplies instant protection from falls.
Non-Slip Treads
Non-slip treads are essentially rubber mats that are placed over stair treads to reduce slipping. Like anti-slip tape, the mats are usually equipped with an adhesive backing, but work to cover the entire tread for increased safety. There are basic gray rubber styles that tend to be less expensive than more decorative options, and are slightly reflective for fire safety. This basic style tends to be a little too industrial for home use, so they are more ideal for outdoor staircases. A variety of manufacturers produce decorative mats that serve the same purpose, but feature a more visually appealing look, including a wider selection of colors and patterns. The decorative options tend to carry a slightly higher price tag than their more basic counterparts.
Stair Edgings
Stair edgings, sometimes called stair nosings, are attached to the front of a stair tread to reduce the risk of slipping. These are usually made of metal and create a bit of texture for bare feet or shoes to grip onto. There are a variety of sizes and styles to choose from, although most are produced with a metal base and covered with a non-slip tape or mat. They tend to have an industrial look that is not always ideal for indoors. It is essential to select a type that is attached using glue or adhesive strips, as bolts or screws will damage tile flooring.
References
Writer Bio
Sara John is a professional writer and copy editor living in Des Moines, IA. She has worked professionally for seven years, and written articles for the Long Beach Press-Telegram, as well as other local publications. She is a graduate of Grand View University and holds a B.A. in journalism.
Photo Credits
Hemera Technologies/AbleStock.com/Getty Images
More Articles