Standard Chain Link Gate Width
Chain link fences have multiple applications in commercial, municipal and residential environments. Chain link offers homeowners a versatile, cost-effective means of securing property lines, containing pets and providing young children with a safer environment. Chain link gates, which come a variety of standard sizes, provide easy access through the fence into or out of the contained property.
Single Walk Residential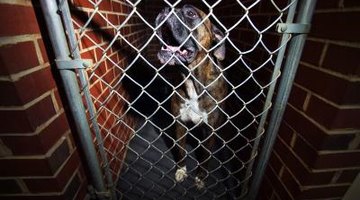 Chain link fence gates for residential use are available in standard and custom single-walk sizes. A single-walk gate is designed for people to walk through. Single-walk gates are typically made from 1 3/8 inch diameter tubing and are typically the same height as the chain link fence. Building codes might specify widths for chain link fence gates, but standard widths for single-walk residential fence gates range from 3-foot to 12-foot, typically in 1-foot increments.
Double Drive Residential
A single-walk residential chain link gate won't be wide enough if you need to have access to your enclosed property for a vehicle or large equipment. You can install a double-drive residential gate to handle your needs. A double-drive gate is made of two gate panels that are hinged at opposing ends and meet and latch in the middle. Like their single-walk counterparts, double-drive gates are made from 1 3/8 inch diameter tubing. They are the same height as the adjoining fence and each gate panel comes in standard widths ranging from 3-foot to 12-foot, typically in 1-foot increments.
Commerical Gates
While residential chain link fence gates can be ordered in pre-made standard sizes, commercial chain link gates are typically custom made to meet the specific needs of the customer. Commercial gates can come in sliding, rolling or cantilevered configurations to facilitate opening and closing. No standard width exists for commercial chain link gate applications.
Considerations
Chain link fence gates can be purchased in self-assembled kits or in pre-assembled units. You will need several elements to install a gate in your chain link fence. In addition to the gate, you'll need upper and lower hinges and a gate latch kit. You will need to set the gate posts far enough apart to accommodate the gate and the hinges and latch.
References
Writer Bio
Mike Parker is a full-time writer, publisher and independent businessman. His background includes a career as an investments broker with such NYSE member firms as Edward Jones & Company, AG Edwards & Sons and Dean Witter. He helped launch DiscoverCard as one of the company's first merchant sales reps.
Photo Credits
Thinkstock/Comstock/Getty Images
More Articles