Vikrell vs. Poly Composite Bathtubs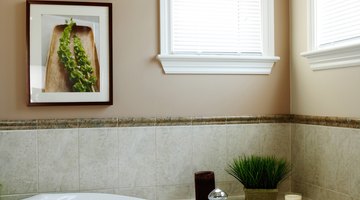 Even if a bathtub looks pleasing, it still needs to be comfortable and long-lasting. A Vikrell or poly composite bathtub is made to be budget-friendly and lasting. The right model for you depends on your budget and personal preference.
Identification
Vikrell is a brand name of plumbing structures made of polyresin and fiberglass. Other poly composite bathtubs and plumbing structures usually are made of similar of materials, although they have different brand names. Fiberglass is a material that mixes plastic and fine fibers of glass. When combined with other materials such as polyresin, the material is even stronger. Composites of materials vary from brand to brand.
Benefits
Vikrell and other poly composite bathtub materials are simple to install, inexpensive and lightweight. Even homeowners with limited construction experience can install the bathtub. Poly composite bathtubs are manufactured to be tough and last for years. Vikrell, for instance, has a 10-year residential and three-year commercial warranty. Also, the pieces lock together to create a watertight seal, so caulking isn't necessary. Fiberglass and polyresin models resist staining.
Disadvantages
Poly composite bathtubs sometimes are installed incorrectly by novices. A bathtub requires a mound of cement under it so it doesn't pop or move when it is used. This creates a solid base, and without it, the bathtub is not as sturdy as it should be. Since fiberglass has glass fibers, dropping something as small as a full bottle of shampoo can cause cracking. Although manufacturers of Vikrell and other brands claim poly composite brands don't require caulking, user reviews indicate that theysometimes do, especially when the bathtub doesn't fit perfectly into its allotted space.
Alternatives
Older homes usually have bathtubs made of enameled steel or enameled cast iron. Both are more durable than fiberglass options, but they cost more. Cast iron is very heavy and requires extra framing underneath to support the heavy bathtub. While steel is lighter, it can be slippery, cold and noisy.
References
Writer Bio
Katie Tonarely started writing professionally in 2008. Her work appears in the Springfield "News-Leader" and she provides consumer-related content for various websites. Tonarely received a Bachelor of Arts in English education with a minor in journalism from Evangel University in Springfield, Mo.
Photo Credits
Jupiterimages/Photos.com/Getty Images
Jupiterimages/Photos.com/Getty Images
More Articles