Preparation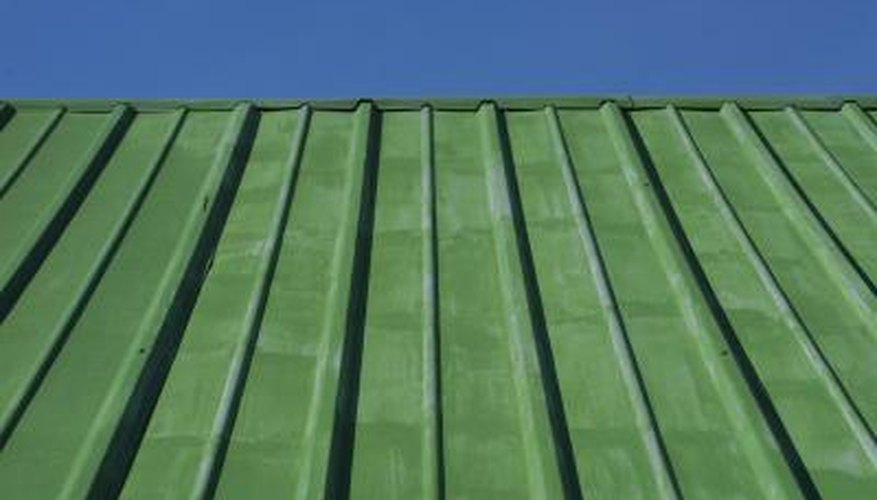 Most metal roof tile or sheet systems are simple enough to install yourself. Follow the proper procedure to ensure your new roof protects the interior of your home from moisture.
Installing metal roofing on a new home with freshly prepared plywood decking requires no further preparation. Adding a metal roof to an existing home requires you to determine if you can install it over the current roof or if you will need to tear it off. Roofs with intact decks and a single layer of asphalt tiles are fine for installing directly over with the help of some 2-by-4-inch wood furring strips to support the metal, says Fabral Metal Wall and Roof Systems. Damaged decking calls for the removal of existing roofing and prompt repair.
Waterproofing
You'll need to install a layer of underlayment below the metal roofing sheets or tiles to protect the plywood below from water damage. A layer of specially designed plastic sheeting is arranged over the roof surface with a 6-inch overlap between sections, according to New England Metal Roof. Strong sections of underlayment designed to handle the weight of ice and snow should be added along the ridge vent and around the edges of the roof.
Fastening
Metal roofing materials require a roofing screw long enough to secure each panel to the decking and that include a neoprene washer to seal the hole made in the metal, says Fabral. Pre-drilling the holes saves time on the roof. Stacking a few tiles or sheets together keeps the holes in alignment and speeds up the process. Be careful not to use a bit much bigger than the screw size to pre-drill holes or the opening will leak.
Sealing
Most metal roof systems use foam strips as flashing to prevent water from flowing between sections and rotting the roof. These strips should be sealed in place with a special butyl tape sealant, according to the Handyman Club of America. The same flashing and sealant is used around the edges of the roof when the shingles wrap over. If you can't find screws with neoprene washers, the butyl tape sealant can be used to seal around metal washers instead.