How to Build a Trundle Bed With Drawers
Trundle beds are beds that include slim frames and mattresses without box springs that leave space below for storage drawers. In some cases the drawer below a trundle bed includes another mattress, allowing the bed to effectively double in size. In others, the drawers are solely for storage. Building your own trundle bed offers a way to create more storage space or add a temporary sleeping space to a bedroom.
Basic Layout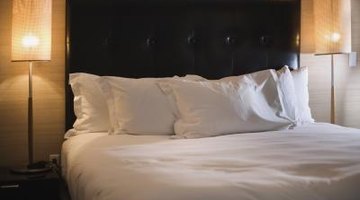 A trundle bed's frame is similar to a platform bed since it doesn't need to accommodate a mattress and may not have any legs or supports other than those at the frame's corners. A solid sheet of wood can form the platform. The headboard can be a separate element or an extension of the two legs at one end of the frame. The remaining legs and sides can take any form, though the frame must be tall enough to accommodate a drawer beneath it, generally more than 1-foot high.
Drawer Options
A trundle bed with drawers can feature either a large, single drawer that contains a twin mattress or a series of storage drawers that open from one side of the bed. Rails for the drawers must be attached to the bed frame legs close to the point at which they meet the ground. Casters provide additional support for trundle bed drawers by allowing them to slide along rails but also roll on the floor beneath and next to the bed.
Materials
Most trundle beds are made of wood, which offers the most options for a homemade version. A plywood sheet is appropriate for the frame's platform and any common furniture wood, such as oak, pine and cherry, can form the legs, headboard, and sides of the bed. The drawer can use another plywood sheet, slightly smaller than the one that serves as the frame's platform, and sides made from hardwood or plywood with a veneer finish.
Construction
Wood screws and nails can support the weight that a trundle bed with drawers will experience during use. This makes assembly relatively easy once all of the lumber is cut to size. If you have more advanced carpentry skills you can employ wood joints to hold the bed together or achieve a more traditional look. Storage drawers can be constructed by nailing or screwing plywood planks together to form basic wooden boxes. Drawer rails, which you'll need to purchase as prefabricated kits, screw onto the sides of the drawers and into the bed's legs with wood screws.