Adjustable Fireplace Grills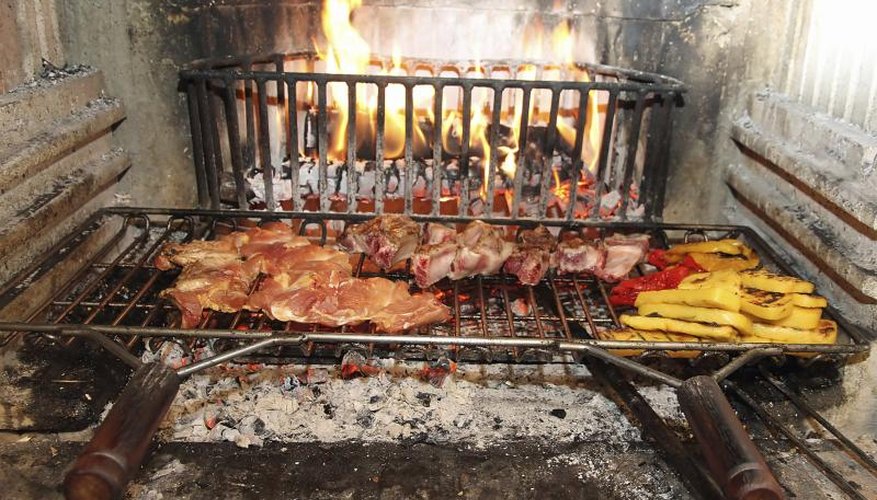 In large older homes, the kitchen included a fireplace and hearth many times the size needed to warm the house to allow room for the accessories and tools needed for hearth cooking. To recapture this look for the kitchen fireplace in your period home, you'll need modern versions and replicas of the tools used for hearth cooking.
Modern conveniences, such as adjustable grills and racks that sit inside the hearth over the flames, have made hearth cooking much easier than during Colonial times and pioneer days. These types of grills allow you to cook over an open flame by adjusting the distance of the rack above the flames. Choose cookware -- pans, ovens and kettles -- made from cast iron when hearth cooking, but don't forget to have fireproof gloves or mitts handy for lifting and moving pans by their hot handles. You can also cook meats directly on the grill in the same manner as when you barbecue with long-handled spatulas and forks. Cooking trivets -- three-legged pan stands -- also allow you to place a cast-iron pan in the fireplace above coals or flames.
Hearth Rotisserie
In pioneer and Colonial times, hearth rotisseries were turned by hand, but now you can get a hearth rotisserie that operates electrically. The rotisserie sits directly in front of the fire with a chicken or other large pierced piece of meat skewered on the spit -- the rod that runs through the meat -- turning slowly so that the meat cooks on all sides. Beneath the meat sits a basin to catch grease and oil drips as the meat cooks. This slow-roasting method of cooking requires little effort with today's modern hearth tools.
Cast-Iron Dutch Ovens
Cast-iron Dutch ovens allowed cooks to make stews or casseroles similar to baking in an oven. The food was prepared and inserted into the thick, black iron Dutch oven and then covered with its lid. A place inside the hearth was cleared away to set the Dutch oven directly inside the hearth. Coals were then banked against the cast-iron oven and even placed on the lid. Dutch ovens made for hearth cooking in this manner have a raised lip to keep the coals in place on the lid.
Hearth Cranes
Hearth cranes consist of large brackets permanently attached to the inner firewall of the hearth for hanging cast-iron pots from S-brackets or trammels over the fire. Some hearth cranes are freestanding to position them where you need them inside the hearth. Cooking implements include long-handled chestnut roasters and long-handled toasters for making toast over the heated hearth. Women often used three-legged cast-iron cooking pots, bird ovens, coffee roasters, tin kitchens and even griddles and waffle irons. Most kitchens with hearths also had a tilting teakettle, lidded kettles of varying sizes and ember tongs for moving coals, as well as standard fireplace tools.