Classic 1940s Office Design Ideas
On one hand, the 1940s is a historically complex era that limited design and decorating styles. On the other hand, recapturing the '40s in an office design provides more options than most other decades of the 20th century. Regardless of personal taste, or the type of industry of the targeted office, the styles of 1940s are reproducible on nearly any budget.
Décor Delayed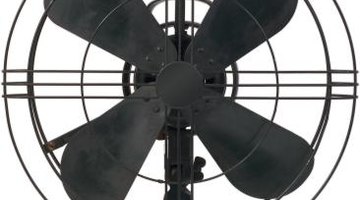 Office decorating halted when the United States entered World War II in 1941. Manufacturers produced goods from scarce material supplies targeted for the war effort. At this time, the office design was what had been used since the 1930s or earlier. Classic 1940s office style didn't develop its own distinction until manufacturers focused on post-war production. Pam Kueber of RetroRenovation notes that classic 1940s style actually came out of the period of about 1946 to 1953.
Early Existence
The style of an early 1940s office varied according to the type of business and location. Design the office of a small business with traditional wood and metal furnishings from the 1930s. Hang wooden window blinds and furnish with brown-tone finishes on a wood or retro pattern linoleum floor. Add a vintage electric fan on top of a wooden five-drawer filing cabinet. Hide modern equipment in cabinetry or under a cover designed like an early radio. Top each desk with a reproduction phone rotary-styled touch-tone phone. On the other end of the scale is Art deco, a style for an affluent metropolitan office space. Art Deco came into fashion during the 1920s' financial boom and continued through the '30s. This style is created from manufactured products with geometric lines that works well with high-tech devices. It's easy to reproduce an Art Deco office design as numerous architecture and decorating books contain historic photos. Many antique stores carry Art Deco pieces and major interior decorating retailers carry vintage reproduction wallpaper.
Surface Treatment
Before laminate's arrival in the late 1950s, a soft linoleum with a rubbery or leatherlike texture was used as a surface material. This linoleum was trimmed with chrome edging that may have included an accent color strip. Line the walls of the office with soft linoleum or comparable material. Trim pieces for a sophisticated appearance. Inlay metallic strips in linoleum or wood laminate flooring with trim pieces set in corners and along edges for a distinctive 1940s design enhancement.
Hollywood Influence
Hollywood influenced decorating styles in the early 20th century and how we envision a classic 1940s office. An iconic feature of the office of a powerful person is the massive arched window representing the top floor. Recreate this window by adding woodwork that covers a wall of windows. Build-out a small window with the arch and use murals to imply the exterior view between the window and arch. Another Hollywood influence is the film noir detective and crime films. For a small office, the black and grey colors on the traditional wood and metal furnishings from the '30s creates a fun office design. Add a custom noir wall covering that permanently captures light passing through the shadow of window blinds
References
Resources
Writer Bio
Cynthia Clark began writing professionally in 2004. Her work experience includes all areas of small-business development, real-estate investments, home remodeling and Web development. Clark is skilled in a number of design disciplines from digital graphics to interior design. Her diverse background and commonsense problem-solving skills allow her to tackle a variety of topics as an online writer.
Photo Credits
Hemera Technologies/PhotoObjects.net/Getty Images
More Articles