Shutters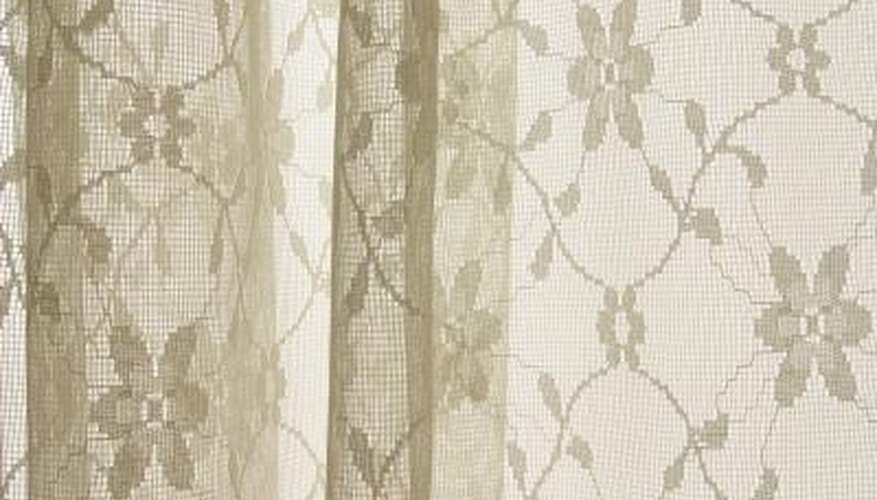 Shutters and roller shades remained in wide use throughout the entire century, but simple wooden blinds declined in popularity during the latter half, while curtains suddenly expanded in popularity.
Most nineteenth century homes used shutters according to Shawn Godwin, a project manager for the restoration of the Beall House restoration project in Wooster, Ohio. Interior shutters secured houses and other buildings against the elements and provided additional privacy to residents as desired. Most shutters had hinges on the sides and folded closed against both sides of the window jamb. Homes used solid panel shutters during the early 19th century, but in later decades, homes switched to louvered shutters — a type of shutter with horizontal slats — or a combination of paneled and louvered shutters.
Roller Shades
Roller shades appeared in 19th century homes almost as frequently as shutters. Godwin states that in the 1800s, homes commonly used hand-painted shades with borders and scenes including fruit or classical views. Roller shades only became popular in America sometime after the War of 1812, but existed in the colonies earlier on. During the 19th century, the shades consisted of thick cotton or Holland cloth, a type of oiled linen. Houses often used roller shades in conjunction with other treatments, including curtains and lace panels.
Curtains and Accessories
The Historic Preservation Education Foundation reports that by the early 1800s, decorative fabric curtains made of expensive materials, including damasks, brocades and velvets, found their way into upper-class homes. Additionally, early century curtains had decorative elements such as tiebacks, tassels, fringe and swagged valances. During the middle of the 19th century, lambrequins — stiff panels of fabric with a curved border that framed the window — accented the curtains; by the late 19th century, fabric options, tieback materials and other curtain elements thoroughly expanded. In particular, lace gained popularity upon the invention of Nottingham lace, and Victorian era homes accented their windows with lace swags, curtains, tiebacks and more. The popularity of lace died down by the turn of the century, however.
Wooden Blinds
Wooden blinds had more popularity during the beginning of the 19th century than they did towards the end. Venetian blinds consisted of wooden slats connected by a long, flat strip of cloth and frequently appeared in American homes according to the Alabama Historical Commission. During the early 1800s, people typically chose to hang white or stone colored wooden blinds designed to match the color of the window casement. Dark green blinds occasionally appeared, as well.