Home Painting Interior Colors of the 1930s
In 1932 Good Housekeeping Magazine ran an article taken from a book written by Helen Koues, then Director of the Good Housekeeping Studio of Furnishing and Decorations, entitled "How to Beautify Your Home." The article states that "no color scheme can be really successful that does not use three or more colors." Explore a few color schemes used in a fashionable 1930's home.
Bedroom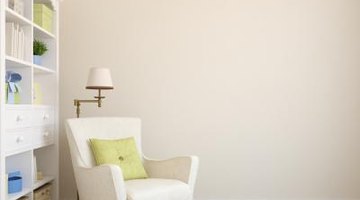 Decor options for 1930s era master bedrooms very often featured cream and ivory colors for wall paint. Furnishings in walnut matched the gray-blue, violet and rose colors in rugs, curtains and accessories. At other times, while still using the cream and ivory wall colors, furnishings were painted and upholstered in two shades: teal and light teal is one example. A splash of bright yellow complemented the teal. Still another example chose light beige walls and white ceiling colors to correspond with the dark, jewel-tones of teal, ruby, green and purple used elsewhere in the room.
Living Room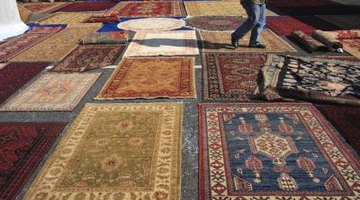 The family's leisure gathering area was the living room. The warm colors of oriental rugs dominated floor coverings, and the colors in these rugs echoed throughout the room. A pastel peach living room with dark brown wood flooring was covered with a rug containing pastel peach, green and blue colors. Accent colors of gold and dark sage-green are used throughout the room. Ivory walls and a rug with darker reds and browns used yellow-gold and jade green accent colors to give the room interest. Still another applied apple green paint to the walls while employing softened shades of dull green and apricot, dark wood furnishings and accent colors of deep and light yellow.
Bathroom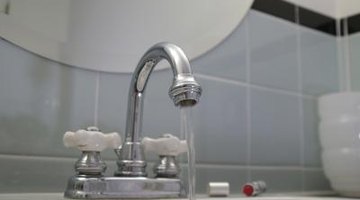 The bath had pastel-colored or white porcelain fixtures while floors or the bottom portion of the walls or both sported tile. If the decorator did not use a solid color tile for flooring, the remaining colors were plainer. One example shows taupe walls along with the patterned floor tile. Accessories picked up the colors in the tile -- white, gray, black and sunflower yellow -- while ceiling and shelf areas were painted a pale, orange-pink color to correspond with the pale pink sink, toilet and tub. Yellow walls along with pale yellow fixtures, blue tiles and red painted trim, or muted yellow walls with deep green tiles and pink fixtures were two other bathroom color schemes used in the 1930s.
Kitchen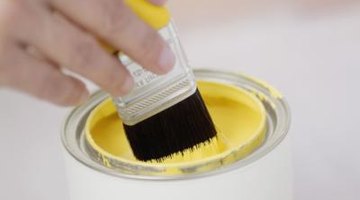 The busiest room of the house called for some of the most enticing colors. One 1930s kitchen started with tan, white and black colors. Cadet blue, a few shades lighter than the blue in the linoleum floor pattern, was added for curtains along with mustard yellow cabinets and red accents. It was not surprising to spot art deco designs painted on cabinets and other accent pieces of the time. Pale blue and cream painted kitchen woodwork along with peach as an accent was one kitchen scheme. Pale yellow walls, with flooring of yellow, black, blue and golden-brown linoleum, used two shades of blue and white as accent colors.
References
Writer Bio
Obtained Nursing degree followed by Registered Nurse license in 1984. Have held several positions in long term and intermediate care, acute care and home health with much of this experience in leadership roles. Years of management and staff education give me a solid basis of nursing expertise and medical knowledge. In addition, conducting in-services and community health education forums involves public speaking, an ability I have utilized scores of times.
Photo Credits
Danny Oliva/iStock/Getty Images
poligonchik/iStock/Getty Images
Karl Kehm/iStock/Getty Images
April Turner/iStock/Getty Images
Medioimages/Photodisc/Photodisc/Getty Images
More Articles