How Does Vinegar Affect Marble Chips?
It can be difficult to notice day by day, but marble that's outside gets weathered and breaks down if it isn't sealed. Acid especially breaks down marble, because it reacts with the stone's major component, limestone. Vinegar and marble chips work well to simulate the effect of acid on marble, for a science fair, art project or other experiment.
Chemically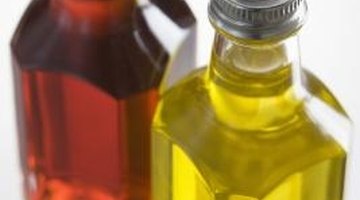 When vinegar encounters the limestone in marble, a chemical reaction occurs. Limestone is basic; vinegar is acidic. As vinegar reacts with marble chips, its low pH is raised to a higher, less acidic number. As a result of the chemical reaction, bubbles or foam occur.
Visually
Vinegar changes the coloration of marble, in a process known as etching. This is why vinegar and other acidic cleaners are not intended for use on marble. The finish of the marble can be eroded or etched and the marble beneath can stain if it comes into contact with vinegar. When this happens, the only remedy is removing the top layer of marble using a buffer to remove the acid stain.
Use
While you don't want vinegar to come into contact with marble, vinegar and marble chips make a fun science lesson to illustrate the effect of acid rain on limestone or marble statues. Acid rain, or any precipitation with an acidic pH, reacts with a marble statue just like the vinegar and marble chips. It erodes the finish on the statue and hastens aging and breakdown of the stone.
Considerations
Keep vinegar away from marble to preserve the look and feel of the stone. If you want to combine vinegar and marble as a science project, go ahead. If you want to make your marble chip, statue or counter distressed, vinegar can help you get the look you want.
References
Writer Bio
A successful website writer since 1998, Elton Dunn has demonstrated experience with technology, information retrieval, usability and user experience, social media, cloud computing, and small business needs. Dunn holds a degree from UCSF and formerly worked as professional chef. Dunn has ghostwritten thousands of blog posts, newsletter articles, website copy, press releases and product descriptions. He specializes in developing informational articles on topics including food, nutrition, fitness, health and pets.
Photo Credits
BananaStock/BananaStock/Getty Images
More Articles