The Measurements of King & Queen Pillows
Since most people spend about one-third of their lifetime in bed, few things can improve your night's sleep like a good pillow. A pillow can help make even the most uncomfortable mattress more comfortable. Although the thicknesses and features of pillows vary greatly, king and queen pillows tend to come in standard measurements.
King Pillows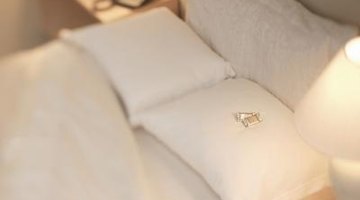 King size beds look best with large king size pillows. King pillows measure 20 inches deep by 36 inches long. King size pillows won't fit into the standard pillowcase, which is only 20 inches by 26 inches. Purchase a pillowcase specifically for king size pillow because it won't fit in a smaller pillowcase.
Queen Pillows
Queen pillows measure 20 inches wide by 30 inches long. Two pillows fit perfectly across the queen size bed, which measures 60 inches across. Both Bed Bath & Beyond and The Bedding Site --- an independent information guide --- note there is no industry standard for queen pillowcases and also note that most people use a standard pillowcase, which fills and plumps up the pillowcase nicely.
Other Sizes
Traditional bed pillows come in a variety of sizes. For example, standard size pillows are 20 inches wide by 26 inches long; most people use standard pillows on twin, full and queen size beds. Euro pillows, which are a square 26 inches, commonly help prop people up in bed while they read. Pillows come in a variety of thicknesses and are a matter of preference. The type of filling inside your pillow will help determine the overall thickness of the pillow.
Considerations
Although many people place only one pillow on the bed per sleeper, others like to use enough pillows to cover the width of the bed with pillows. That translates into one standard pillow on a twin or full size bed, two standard or queen size pillows on a queen size bed, and two king size pillows on a king size bed. People who find that king size pillows are too cumbersome sometimes use three standard size pillows across a king size bed instead.
References
Writer Bio
Lauren Thomason has written professionally since 2011 for online publications such as eHow. She is an avid gardener and crafter, history buff and science experiment fanatic. She holds a Master of Science in elementary education and is pursuing a Doctor of Education from Liberty University.
Photo Credits
Comstock/Comstock/Getty Images
More Articles