The Top Gated Communities for Active Adults in Portland, Oregon
Portland, Oregon is host to a number of upscale gated communities that support active lifestyles among residents. Many upscale retirement communities offer true autonomy and independence to active residents, and support their fitness efforts through planned activities and resources. This is a partial list of upscale communities within Portland which can support active living and autonomy among retired residents.
The Quintet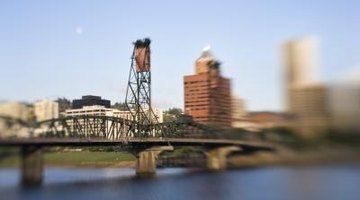 Consider residing in the Quintet condominiums, a gated community for individuals of all ages (thequintet.com). The Quintet community features a number of amenities for active adults, including tennis courts and a full fitness center. Home owner association dues cover access to the fitness center, spa and sauna. The Quintet community is located on 17 partially wooded acres, complete with ponds and well-maintained trails that support jogging and walking. The convenient placement of the community further supports athletic involvement in the community, including easy access to fitness classes in downtown Portland.
The Hazelwood Retirement Community
The Hazelwood Retirement community has amenities to support an active lifestyle among senior citizen residents (thehazelwoodlifestyle.com). The community features 24-hour gated entry, and includes transportation options for residents. Hazelwood offers a putting green and fitness center, and includes full meals, shuffleboard and planned social activities. The community is highly accessible to differently abled residents, and even features major grocery stores on the ground floor of the building.
NorthWest Place
NorthWest Place offers a truly upscale gated community to active retirees, including single residence homes of varying size (srgseniorliving.com). Located in residential Northwest Portland, the well-maintained homes and landscaping create an attractive community. NorthWest Place does not offer structured fitness classes or activities to members, since the community is geared towards highly active and capable retirees. The convenient location in Northwest Portland facilitates residential walking and convenient access to structured fitness opportunities in downtown Portland.
The Stafford
Located just 5 minutes outside the Portland city limits, Lake Oswego's gated retirement community The Stafford describes itself as a boutique retirement community (thestafford.net). The community is on large, well landscaped grounds which support walking or jogging. The Stafford features a vitality center, staffed with highly qualified professionals who can lead residents in yoga, acupuncture, massage, tai chi and other wellness endeavors. The community also offers a fine dining restaurant, offering a fusion of French and Mediterranean cuisine to residents.
References
Writer Bio
Jasmine Henry has been a professional freelance writer since 2008. She has published literary criticism in the academic journal "The Birch." Henry holds a Bachelor of Arts in Russian and environmental science from Willamette University in Salem, Ore.
Photo Credits
Thinkstock/Comstock/Getty Images
More Articles