Instructions for Operating a Hampton Bay Air Conditioner
A Hampton Bay air conditioner (AC) window unit slides onto the sill of a room window and plugs into an electrical socket for easy installation. A window unit can be used to cool the home. Some homes require an AC unit for each room to keep it cool.
Mode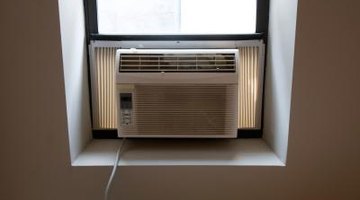 The air conditioner mode determines which operation the air conditioner will perform. The Hampton Bay AC features such mode options as "Cool" for blowing cold air, "Energy Saver" for lower energy output, "Fan" for a fan only function without cold air and "Dry" for the production of less humid air. You can access a mode by a dial or a button located on the front panel. Some Hampton Bay models come with a remote control, which usually features a "Mode" button. Once the mode is chosen, the selected mode indicator light illuminates.
Fan Speed
The fan can operate with the cooling feature or alone, circulating the air in the room. If the AC is cooling, you can increase the fan speed to intensify the effect. Press the button or turn the dial until you reach the desired "High," "Med" or "Low" setting. The "Fan Speed" button is usually featured on the remote control as well. If the "Cool" function isn't selected, the fan does not blow cold air.
Temperature
You can set the temperature by pressing the temperature control buttons on the front panel. Once the temperature is set, the Hampton Bay turns on to achieve the desired temperature as needed. The usual temperature range for a Hampton Bay is between 60 and 86 degrees Fahrenheit. An average time of 30 minutes is needed to adjust the temperature up or down by 1 degree. Temperature control buttons are usually featured on the remote control. The set temperature always appears in the display.
Timer
If you need the air conditioner to start and stop at different times, utilize the "Timer" feature. The timer is accessed from both the remote control and the front panel. The timer is active when the "Timer" indicator light is illuminated. Press the "Timer" button and an hour increment appears on the display. Use the temperature control buttons to adjust the hour up or down for when you would like the air conditioner to either turn off or turn on, depending on whether the device is already turned on. The timer can be set in hourly increments up to 12 hours.
References
Writer Bio
Whitney Houston began writing in 2006. Her work has been published in "BUST" and PaperDolls magazines. Houston attended St. Edward's University, graduating with a Bachelor of Arts in photocommunications (photography and digital imaging).
Photo Credits
Jupiterimages/Photos.com/Getty Images
More Articles