How Do I Override My McQuay Temperature Controls?
McQuay International manufactures commercial, industrial and institutional HVACs, or heating, ventilation and air conditioning systems. The systems range from container-sized chiller units that can be mounted on a warehouse roof, to wall-mounted, split indoor and outdoor air conditioning units with remote controls. All of the air conditioner controls operate using computer chips and are consequently programmable. Sometimes you might want to override the temperature controls.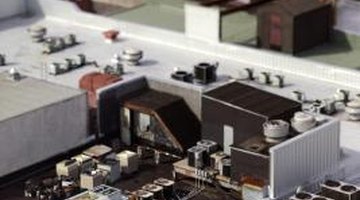 Step 1
Grasp the remote control and point it at the transmission receiver. Press the center power button to turn on the air conditioner. Then set the temperature by pressing the "Up" and "Down" buttons. The temperature setting range on the IM796 split system remote is between 60 and 86 degrees F.
Step 2
Press the "Mode" button to choose the type of operating condition. For example, if your unit has a cooling only unit, choose "Cool" or "Dry & Fan." For heat pump models, choose "Auto," "Cool," "Dry" or "Fan & Heat."
Step 3
Override the temperature controls by pressing the "Power" button, setting the "Off Timer" or setting the "Sleep Mode." Just press the "Power" button to shut the system down. Press the "Set" button to activate the "Off Timer," and then keep the button pressed to set the desired "Off" time.
Step 4
Press "Sleep" to activate "Sleep Mode." Sleep mode overrides the temperature controls that you set in the first step by increasing the temperature by 1 degree after 30 minutes, 2 degrees after one hour and a total of 4 degrees after two hours in "Cool" mode. In "Heat" mode the temperature decreases 2 degrees after 30 minutes and 4 degrees after one hour.
References
Writer Bio
Patrick Nelson has been a professional writer since 1992. He was editor and publisher of the music industry trade publication "Producer Report" and has written for a number of technology blogs. Nelson studied design at Hornsey Art School.
Photo Credits
Thinkstock/Comstock/Getty Images
More Articles