Advantages of Steel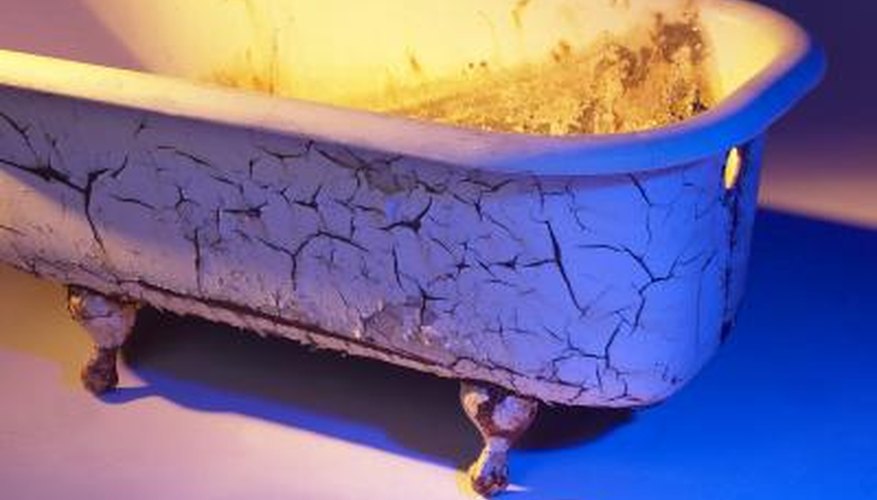 Your tub must be durable, affordable and give you the look you're trying to achieve in your new space. Options are available, including cast iron and steel. Both types of bathtub have advantages and disadvantages, so weigh your options carefully.
Steel tubs are significantly lighter than cast iron, making installation easier and possible in more situations than cast iron. They are typically less expensive. Steel insulates better than than cast iron, which will keep your bath water warmer longer. Maintenance is easy, as their enamel coating makes cleaning them smooth and effortless.
Disadvantages of Steel
Steel won't give you the historically accurate look of a traditional bathroom, if that's your goal. Also, because they're thinner and lighter-weight than cast iron, they're more likely to crack or break. They'll also be noisier when filling or stepping into or out of the tub. If the enamel coating wears down, steel tubs will rust.
Advantages of Cast Iron
Cast-iron tubs have been used in the United States since the 19th century, and even those installed in the early 20th century are often still functioning and in use. They are durable and easy to clean, usually covered in an enamel coating. If you're trying to remodel a traditional bathroom to feel historically accurate, cast iron is a great choice.
Disadvantages of Cast Iron
The enamel coating on cast iron can discolor or crack, and when the cast iron underneath is exposed, it can also rust. Weight is another important disadvantage. If you're installing a new cast-iron tub in an upstairs bathroom, getting it to the room might be a difficult, costly challenge. Some floors are not heavy enough to support cast-iron tubs.
Alternatives
If neither of these two tub types appeal to you, consider some of the many other options available today. For an economical, lightweight option that may not be as long-lasting, consider acrylic. The least expensive option, fiberglass, is easily moldable and therefore available in a variety of shapes and styles. Fiberglass is similar in appearance to acrylic but less durable and more likely to need replacing after 15 years or less. Cultured marble has a shiny, gel-coated finish and makes a durable, lasting tub option. It's pricier than fiberglass and acrylic but available in a rainbow of colors and looks. Finally, ceramic, porcelain or natural stone tile can offer a completely customizable high-end look that lasts many years.