What Does it Cost to Polish Terrazzo Floors?
Terrazzo is a man-made composite type of flooring that is either precast or poured directly onto the floor. The polishing process most commonly happens after the floor has had a chance to cure and harden, although for medallions and other custom insets, the polishing can happen in a factory setting. You need specialty tools and experience to polish terrazzo, which means the cost for the process includes a number of factors.
Specialty Tools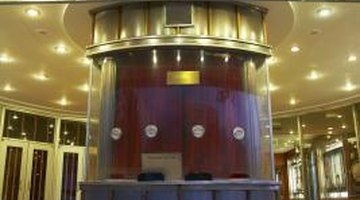 Since terrazzo is specifically made to be incredibly hard and durable, specialty tools such as diamond-tipped or carbide-tipped blades are a necessity, and for floors in particular, a large polishing machine is used. These are only available to qualified professionals, which means your only option for polishing terrazzo is to work with a contractor.
Skill of the Craftsman
The skill of the craftsman is directly rated to the per-hour or per-square-foot rate he gives you. For example, a journeyman craftsman may only charge you the equivalent of $25 to $30 per hour, while a master craftsman will often charge around $75 per hour or more, depending on the project. Polishing and sealing rates vary drastically depending on your location in the country, but as a general rule range between $1 and $5 per square foot at time of publication.
New Installation or Remodel
Depending on if you are having a new floor polished for the first time or an old floor repolished after years of foot traffic, the prices for the project can vary. With new installations, the terrazzo professional does not need to worry about the subsequent dust from the polishing process affecting the house, while a remodel project includes dust prevention and protection methods. These extra methods cost extra money. Although it depends on the contractor in question, the standard for remodel projects is to add on 15 to 20 percent extra to cover protection time and effort.
Optional Inclusions
Optional inclusions during the polishing process can also affect the overall price. For example, while mechanical polishing might range between $2 and $4 per square foot depending on the contractor in question, crystallization polishing and densification are additional process that can enhance the durability of the terrazzo as well as add color enhancement or dyes to change the color. These add-ons can range between $.50 per square foot up to $2 per square foot, depending on the contractor.
Resources
Writer Bio
Tim Anderson has been freelance writing since 2007. His has been published online through GTV Magazine, Home Anatomy, TravBuddy, MMO Hub, Killer Guides and the Delegate2 group. He spent more than 15 years as a third-generation tile and stone contractor before transitioning into freelance writing.
Photo Credits
Jupiterimages/Photos.com/Getty Images
More Articles