Keep Tools at Arm's Reach in the Garage or Laundry Room with an Industrial Rail Storage Solution
_Keep tools and other every day items handy with a cool industrial wall storage system. Building your own is easy. Here's how…_.
We recently updated our blank garage wall to be a more functional and design-worthy space with the help of a few key rails, hanging metal baskets and S hooks. This same organizational concept would work well to update other areas of the home prone to clutter, such as the laundry, kitchen or craft room.
Not only will a system like this keep all your tools within arm's reach, but it will add visual interest to the space. The hanging baskets, metal pails and hooks make it easy to mix and match to get different looks.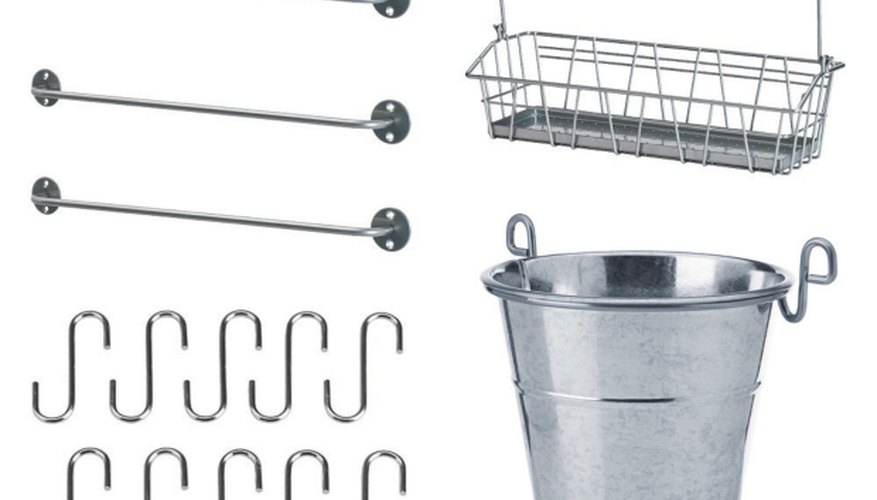 _Images: [Ikea](http://wwwikeacom/us/en/catalog/categories/series/08003/)_.
We found the components for our rail system at [Ikea](http://wwwikeacom/us/en/catalog/categories/series/08003/), but there are many options for creating this look — you can find similar designs from places such as [West Elm](http://wwwwestelmcom/products/mrk-industrial-rail-system-w919/) or even [make your own out of plumbing pipes](http://upcycledtreasurescom/2014/04/west-elm-inspired-gold-industrial-rail-system/) from the hardware store.
**Things You'll Need**.
* 2 metal rails, 21¾ inches * 1 metal rail, 39¼ inches * Level * Power drill * Masonry bit * Plastic anchors * Wall screws, #6 * S hooks, open postion * Hanging baskets * Hanging pails.
If using plumbing pipes to create these rails, 1/2 inch round pipes paired with 1/2 inch round floor flanges (2) and 1/2 inch round 90 degree elbows (2) will achieve the same look. **Tip:** Most hardware stores will cut plumbing pipes to size, allowing you to create custom lengths for your space.
First decide on the wall space to install the rail system, and using a level, hold the rail against the wall and mark holes for drilling.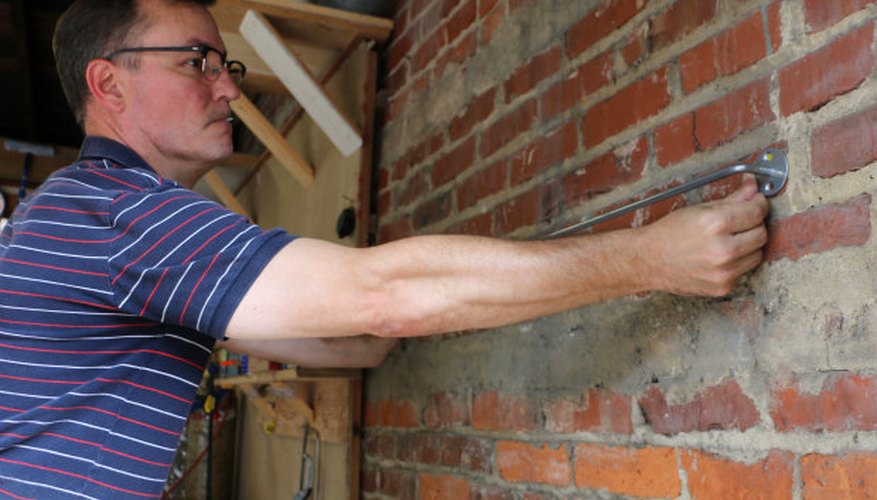 We chose to install our rail system on a brick wall in our garage. Drilling into brick might sound intimidating, but it's actually quite simple if you have the right drill bit and a power drill. Masonry bits come with a tungsten carbide tip and are designed specifically for easy drilling into bricks.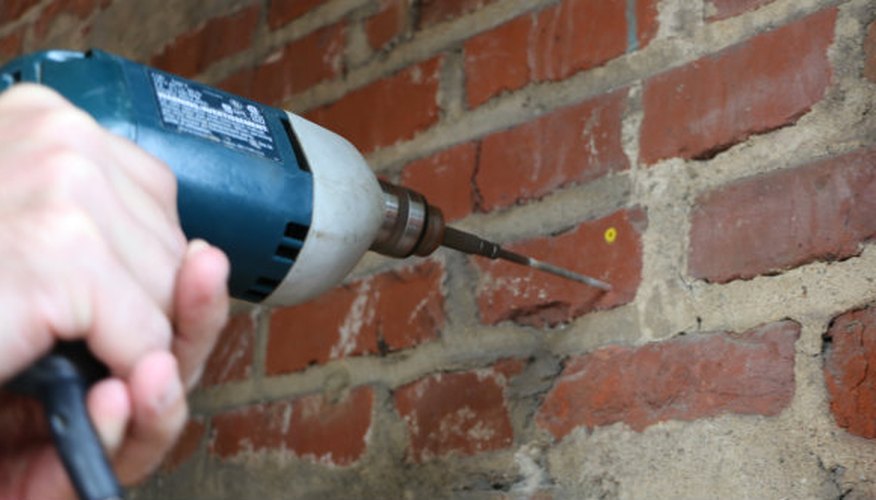 After the holes are drilled, insert plastic anchors (which will help ensure a more secure hold), and then screw the rails in, flush against the wall. _**Tip:**_ Test that your rail is still level before drilling the final screws into the wall.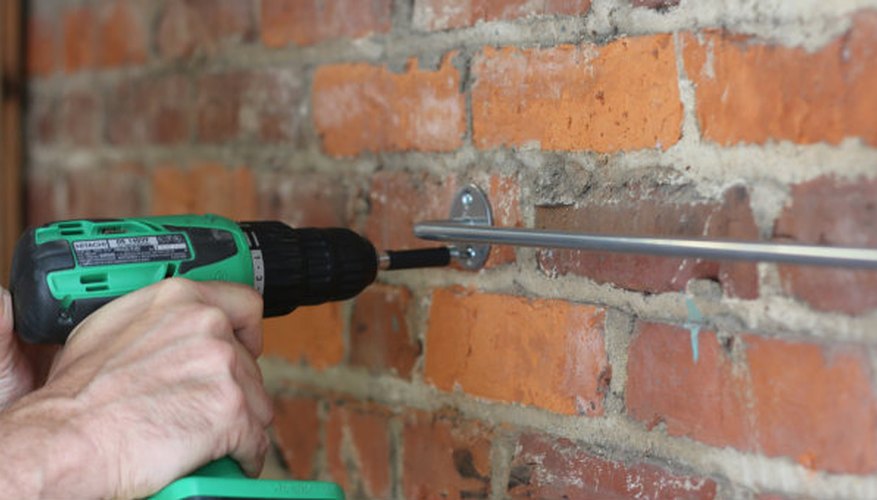 Leave enough vertical space between rails to accommodate the hanging baskets and other attachments you choose to decorate with. Repeat this installation process with any additional rails until each has been secured to the wall.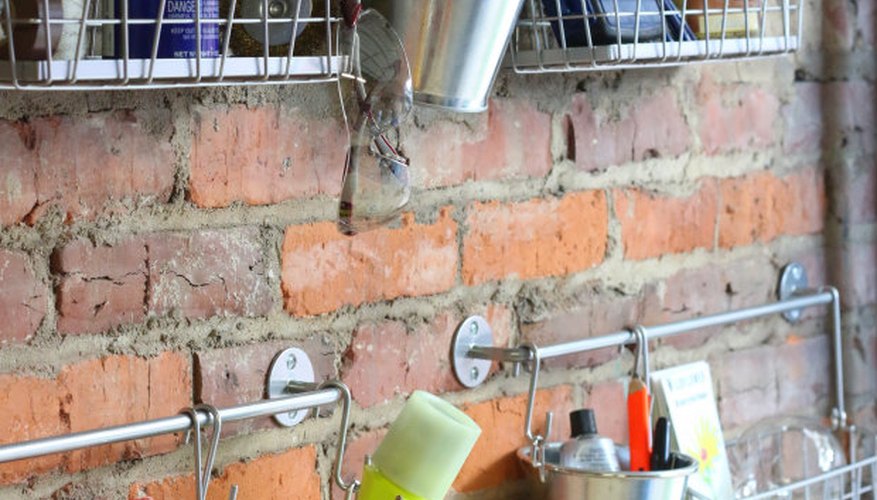 When fully installed, arrange the hanging baskets along the rails for instant storage. These narrow baskets work well to hold tools and supplies in a garage or craft area; consider using larger sized baskets if creating this look on a laundry wall.
Use S hooks to hang other attachments such as metal pails or tools with a looped handle. _**Tip:**_ Make sure to use S hooks that come in the open position, like [these](http://wwwikeacom/us/en/catalog/products/80072644/).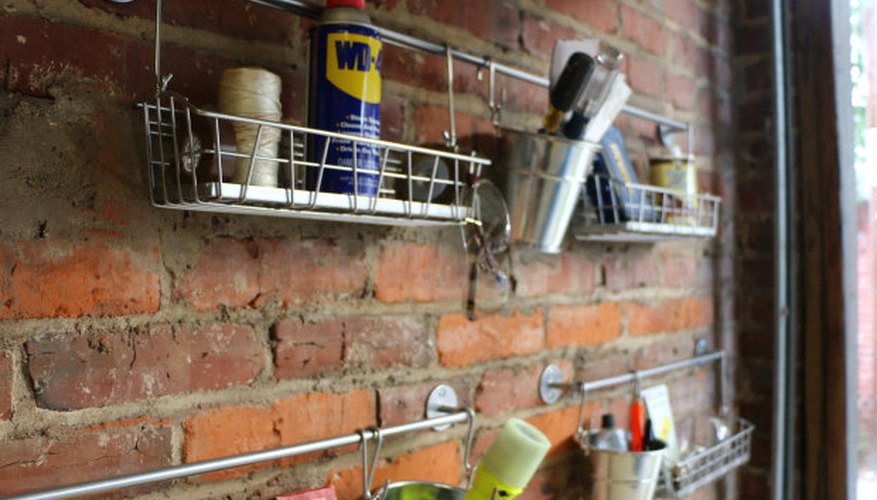 With that, you've created a beautifully organized vertical space saver to keep all your favorite tools and supplies within arm's reach. We think it will be your new favorite space!.
Looking for more organizational ideas? Learn how to [organize everything under your kitchen sink](http://www17apartcom/2012/07/pinterest-challenge-everything-buthtml) using a tension rod, how to make [gadget charging storage station from a wine crate](http://wwwehowcom/ehow-home/blog/want-to-organize-and-hide-your-electronics-create-a-charging-system-out-of-wine-crates/?utm_source=17apart&utm_medium=contributor&utm_campaign=blognetwork) and recreate this [DIY leather valet tray](http://wwwehowcom/ehow-home/blog/make-this-leather-catch-all-tray-and-keep-your-keys-coins-and-clutter-contained/?utm_source=17apart&utm_medium=contributor&utm_campaign=blognetwork) to store all your odds and ends.
Cheers,
Mary & Tim.
**[More from Tim and Mary](http://wwwehowcom/ehow-home/blog/byauthor/17apart/)**.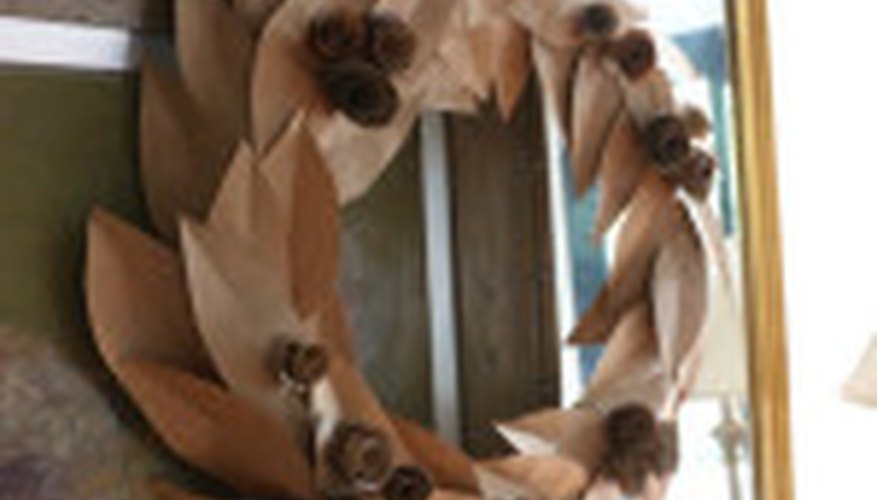 [Make This Inviting Fall Wreath from Recycled Grocery Bags](http://wwwehowcom/ehow-home/blog/make-this-inviting-fall-wreath-from-recycled-grocery-bags/).
[5 No-Fail Steps to Restoring and Seasoning Rusty Cast Iron Skillets](http://wwwehowcom/ehow-home/blog/5-no-fail-steps-to-restoring-and-seasoning-rusty-cast-iron-skillets/).
[Fix Up Old Furniture and Flea Market Finds Using These Natural Home Remedies](http://wwwehowcom/ehow-home/blog/fix-up-old-furniture-and-flea-market-finds-using-these-natural-home-remedies/).
__Keep up with Mary and Tim's adventures in DIY, home and gardening on their collaborative lifestyle blog, [17Apart](http://www17apartcom/ "17 Apart"). Find them on Instagram ([@17Apart](http://instagramcom/17apart "17 Apart Instagram")) and page through delicious recipes on Tim's food blog, [EAT](http://wwwtimvidraeatscom/ "EAT")__.
Photo credits: _Mary & Tim Vidra_.