Location
S. Postal Service (USPS) regulations regarding mail boxes are intended to insure quick and efficient delivery of the mail. The regulations allow some leeway for the local postmaster, so it is advisable to address any questions to the local post office before putting up your mailbox. There are regulations concerning location, size and maintenance of curbside or post-mounted mailboxes, and door delivery mailbox rules.
Curbside mailboxes should be located so that the mail carrier can access them from the right side of the street or road in his direction of travel. They should be easily reachable, with a distance of 41 to 45 inches from the road surface to the bottom of the box and 6 to 8 inches from the mailbox door to the curb face or road edge. Street or road conditions that prevent locating the box within the regulations should be discussed with the local postmaster.
Before changing a mailbox location, you should always contact your postmaster.
Size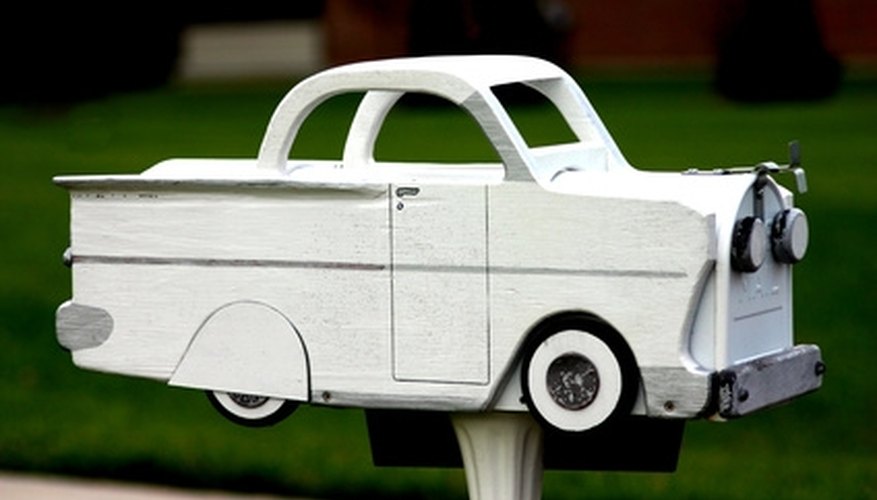 The three standard sizes for mail boxes are: 18½ inches deep, 5 inches wide and 6 inches high; 19½ inches deep, 6 inches wide and 7 inches high; and 22½ inches deep, 8 inches wide and 11½ inches high. Mailboxes with locks have to be models approved by the Postmaster General and must have slots large enough to accept your volume of mail. Custom-made mail boxes that generally meet the USPS standards may be approved by the local postmaster.
Maintenance
The customer should maintain the posts and supports so that they are strong enough and large enough to support the mailbox, yet still bend or fall away if struck by a vehicle. The customer is also responsible for maintaining a clear path to the mailbox so the carrier can deliver the mail. The name on the mailbox should be legible in letters at least 1 inch high.
A newspaper receptacle can be attached to the post as long as it doesn't use the mailbox itself for support or interfere with delivery. No advertising can be displayed on the receptacle other than the newspaper name.
Door Delivery Mailboxes and Slots
In densely populated areas or when authorized by the USPS, mail may be delivered on foot to a USPS approved wall-mounted box or door slot. Boxes have to provide protection and security for the mail, and any mailboxes with locks must have slots large enough to accept your volume of mail. Door slots must be at least 7 inches long and 1½ inches wide with a hinged cover. The bottom of the slot has to be at least 30 inches above the floor.