Clutter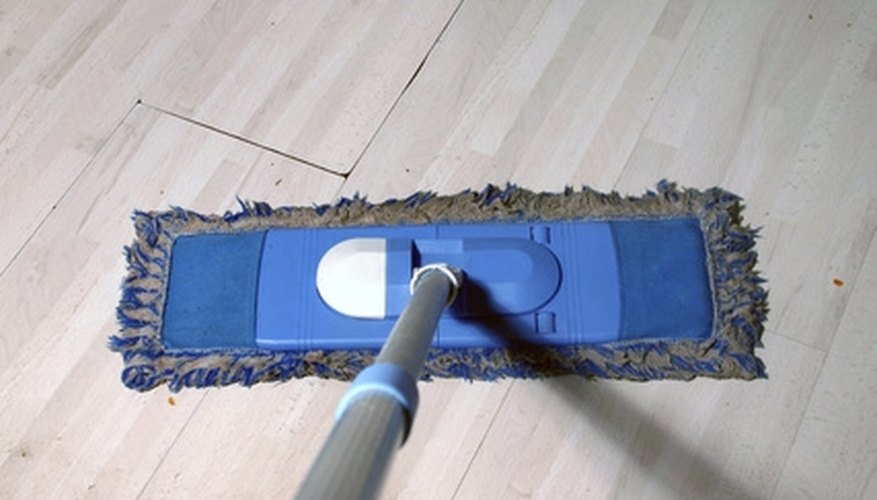 Use at least two separate cleaning checklists, one for daily tasks and one for weekly cleaning. These will help you keep your home well maintained throughout the year. Tailor items to your particular household as needed to create an individual home cleaning guide.
Pick up clutter daily to ensure that this task doesn't get away from you. Left for a week or more at a time, picking up and organizing your home easily becomes a several hours long process. Done on a daily basis, it will take just a couple of minutes to have a room looking tidy, according to Martha Stewart. Sort mail when it comes, immediately throwing out junk mail. Do likewise with papers, including that never-ending stream of school papers that come home with your children.
Quick Cleanups
Maintain cleanliness in the kitchen and bathrooms with quick cleaning done daily. Wipe up after yourself and teach other household members to do likewise in both these areas. Wash dishes or load the dishwasher while you cook, wipe the table off after meals and sweep both the bathroom and kitchen floors at the end of the day.
Laundry
Do laundry on a weekly basis, unless there are enough people in your family to necessitate daily laundering. Gather all clothes, towels and rugs and take them to the laundry room. Sort as needed, wash, dry and return to their original location. Reduce the chances of laundry constantly hanging over your head throughout the week by completing this job on a weekly basis.
Bathrooms
Clean bathrooms on a weekly basis to keep these heavily used rooms germ-free. Empty trash, dust lights and decorations and shine mirrors. Disinfect toilets, tubs, counters and sinks. Finish by sweeping and mopping floors.
Kitchens
Keep the kitchen clean for the health and safety of your family. Complete necessary daily wiping and surface cleaning in the kitchen, but commit to a thorough weekly cleaning to keep germs and bacteria at bay. Clear old food from the refrigerator. Dust light fixtures and decorations. Clean and disinfect all appliances including the microwave, refrigerator, dishwasher, toaster and stove. Clean counter tops with a disinfectant and scrub the sink and faucet. Wipe spots off walls, doors and cupboards as needed. Empty the trash and sweep and mop the floor.
Bedrooms
Change and wash all bedsheets. Dust furniture, empty trash and vacuum carpet. Launder rugs or shake them outside. Use polish if desired though a slightly damp microfiber cloth works excellently without cleaning supplies. Remember light fixtures, fans, vents, blinds and baseboards when dusting.
Living Areas
Move items and dust well throughout the home. Clean all glass and mirror surfaces such as patio doors and glass top tables. Vacuum upholstered furniture and decorative pillows. Clean entryways, hallways, stairs and banisters as well Empty trash, vacuum carpet and mop hard floors. Dust or vacuum vents and wipe smudges from walls and light switch plates.
Odds and Ends
Complete additional tasks depending on home and family needs. Water and care for indoor plants, sweep the porch or deck and wash pet food bowls and cages if applicable. Add fresh flowers to a few rooms for a pleasant finishing touch. Include a minimum of additional tasks on your checklist or the length becomes overwhelming.