12X18 Deck Ideas
The deck is an outdoor extension of your home, a place where hot summer days can be spent barbecuing with family and friends. Whether you are adding a new deck or simply remodeling a preexisting deck, take the budget you have to work with into consideration. A 12x18 foot deck is not large, but it is large enough to incorporate some creative ideas to boost your home's value and give your family another living area.
Shade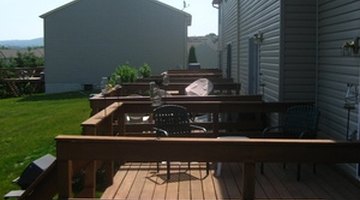 Incorporating shade into a deck design is a great idea to upgrade your outdoor living area. There are several of different shade options to fit a 12x18 deck space. Shade cloths and pergolas come in different colors and patterns, and vary in price and quality. If you have a large tree in your backyard, consider building your deck so that the tree provides some shade on one side of the deck. Or, purchase a do-it-yourself gazebo for a screened in shade option on your deck.
Pool
If you have the space in your home's backyard (and room in your budget), add a pool that connects to your 12x18 foot deck. Pools are a popular complementary addition to a deck as they extend the living space and give your family another outdoor activity. You can build an in-ground pool or an above ground pool. Above ground pools offer the option to disassemble each winter for storage.
Wood and Finish
The quality and appeal of your back yard can add or subtract from the overall value of your house. Make sure the wood for your deck is in good condition. Seal the deck with an outdoor wood stain to ensure longevity and overall visual appeal of the deck. Outdoor wood stains should never peel, but it will wear over time, so you should seal the deck every year or every few years, depending on its condition and use. Never use indoor wall paint on any deck. With some work, an old deck can be sanded and re-polished, giving the whole back yard a new face to be proud of.
Designing a 12x18 Foot Deck
Decks are meant to be enjoyed and should have an inviting and attractive design. The wood on the deck should be safe from splinters and offer some shade if possible. Also, make sure there is seating available for you and your guests to relax and enjoy. Dress it up with plants, trees, water fountains, a barbecue grill, lighting and outdoor surround speakers. The more comfortable you design your deck to be, the more use you will get out of it.
References
Writer Bio
Chris Newton has worked as a professional writer since 2001. He spent two years writing software specifications then spent three years as a technical writer for Microsoft before turning to copywriting for software and e-commerce companies. He holds a Bachelor of Arts in English and creative writing from the University of Colorado.
Photo Credits
More Articles