Window Treatments for Historic Houses
A historic home calls for deft incorporation of period design elements with contemporary lifestyles. Understanding something of the fashion of the period your home's design represents helps when making decor choices. American historic homes are often one of three styles common in the late 19th and early 20th centuries: Victorian, Edwardian, and Arts and Crafts. Window treatments are vey different for all three styles.
Victorian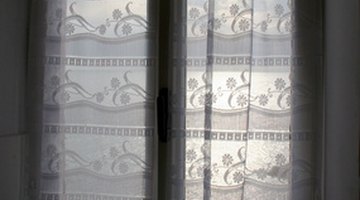 The Victorian era lasted from 1837 to 1901, although the style continued to develop and elaborate for some time. During the era, wealthy homes featured evidence of new scientific discoveries—taxidermy and botanical prints, ferns and palms in pots—and souvenirs from foreign travels—tapestries and porcelains. Design evolved from simple early Victorian to a more masculine heaviness and finally to an embellished feminine décor. This Late Victorian style is most commonly seen today. If your home is Victorian, drape the windows in rich velvets with upholstered cornices, carved wood pelmets or elaborate valances. But in a more feminine room, embroidered flowered drapes might pull over lacy sheer curtains and a curlicued wooden plant stand in front of the window can support a chinoiserie planter holding a cascading fern.
Edwardian
The Edwardian era called for a lighter, simpler, more feminine décor. The period is strictly delineated as 1901 to 1910, but the style originated in the early 1890s and its popularity didn't wane until World War I. Many four-square homes were built during this time. Edwardian style was a reaction to the heavy fussiness of Victoriana. The modern household of the time had heating, plumbing and electricity and the occupants were concerned with hygiene in response to discoveries in medicine that improved public health. Windows were opened for more light and air. Window frames were lightly-stained wood and the windows were no longer draped in heavy fabrics. They were often covered in lace curtains or simple sheer panels and otherwise left bare. Wood frames and sashes are sometimes painted white in keeping with the lighter look.
Arts and Crafts
The Arts and Crafts style was an amalgam of influences, formally beginning in the late 1880s and never really going completely out of fashion. The look is earthy and was considered very forward and modern for the time. In fact, the Arts and Crafts style has enjoyed a resurgence in popularity as it accommodates modern lifestyles and tastes and can blend with more contemporary furniture. Stained glass in geometric designs or stylized depictions of flowers or other nature subjects was everywhere, so side or top window panels of stained glass would work beautifully in an Arts and Crafts bungalow, for instance. Or decorate a whole window in stained glass if there are alternates for bringing enough light into a room. Window frames are unembellished wood in warm but not pale tones. Curtain fabric is plain style and plain weave in natural fabrics like linen, cotton and wool. Windows are left bare or covered only by simple roll-up shades and flanked by hanging plants in earthy hand-thrown pots.
References
Writer Bio
Benna Crawford has been a journalist and New York-based writer since 1997. Her work has appeared in USA Today, the San Francisco Chronicle, The New York Times, and in professional journals and trade publications. Crawford has a degree in theater, is a certified Prana Yoga instructor, and writes about fitness, performing and decorative arts, culture, sports, business and education .
Photo Credits
More Articles