What Causes My Pillowcases to Discolor?
Various elements from bleach to sweat cause bed linens to become yellowed, stained or discolored. Take steps to turn the problem around, rather than turning over your pillow, hoping that the other side is cleaner.
Discolored Case Causes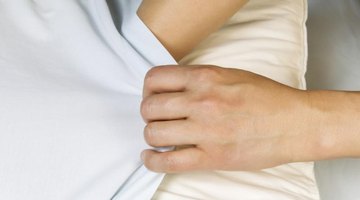 Sweat, breath, skin oil, saliva or any other body emission that comes with sleep can soil a pillowcase. Wash your pillow and any protective cover as needed to limit transferred soils to the case. It's fine to use bleach to sanitize or deep clean sheets and pillowcases but because of its potency, bleach also can cause pillowcase discoloration or yellowing; use bleach only occasionally and as directed on the label. Wash and dry bedding on cool or tepid settings; using hot wash water or a hot dryer sets stains, leaving them discolored. Borax or washing soda helps to whiten fabric and remove stains.
References
Writer Bio
Lorna Hordos is a home-flipping business owner and freelance writer. She writes friendly, conversational business, home and lifestyle articles for Bizfluent, azcentral, Daltile, Marazzi, Lowes, Philips Lighting, WordPress.com and numerous other publications.
Photo Credits
tab1962/iStock/Getty Images
More Articles