Card Tables and Chairs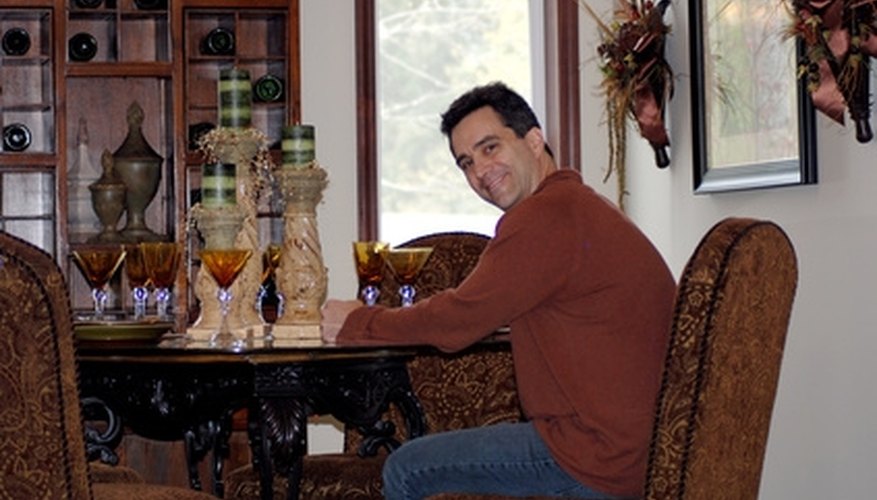 Every house required a dining room, a living room and a den. Today's home, however, must fit the demands of busy, multitasking families. A separate room for sit-down meals is impractical with most food casually served around kitchen islands, breakfast nooks, media rooms or decks and patios. Fold-away tables and store-away chairs give room decor more flexibility and provide dining options for holidays and special dinners.
Many families grew up with a folding card table and set of four chairs. The table consists of four metal or wood legs that fold flat inside a convenient plastic or fabric tabletop housing. Table heights average around 29 inches, while some adjustable tables can lower the height to 22 inches or raise it to 32 inches. Accompanying chairs usually have simple padded seats and backs; the legs collapse so the assembly folds flat. The entire set can be stored in the back of a closet, under a large bed or in a storage space in the attic, basement or garage.
Card tables, which date to the 17th century, were often elaborate wooden tables with carvings, gilding and beautiful tabletop marquetry. Today's card tables are less formal and most are meant to provide an extra surface for playing board and card games, spreading out jigsaw puzzles or completing home tasks ranging from homework projects to taxes. When covered with tablecloths, one or more card tables can form a larger dining surface to accommodate family and guest seating.
Custom and DIY Tables
Wall storage is a handy way to fold a table away from a room when not in use, similar to the fold-away Murphy bed. Paula Robinson, a British design reporter, recommends a fold-out table attached to the wall. When not in use, the table surface swings up on a wall-mounted bracket to fit inside a wall niche. The table is then concealed with a painting or an antique shutter that swings over the tabletop to artfully hide it. There are a variety of commercial fold-away tables that attach to the wall. One model features legs that fold up and become a picture frame around poster art on the bottom of the table.
A versatile variation of the fold-away table is the so-called take-apart table. Small end or occasional tables can transform easily into dining space for six or more people by serving as the base for a larger tabletop. The detached tabletop can be a simple plywood round or rectangle, stored away when not in use or draped with a tablecloth when the table is set. Homeowners can customize tabletops with decoupage or painted designs sealed with a clear finish. The decorated tabletop can hang on the wall as a work of art when not serving as a dining surface.
Storage Chairs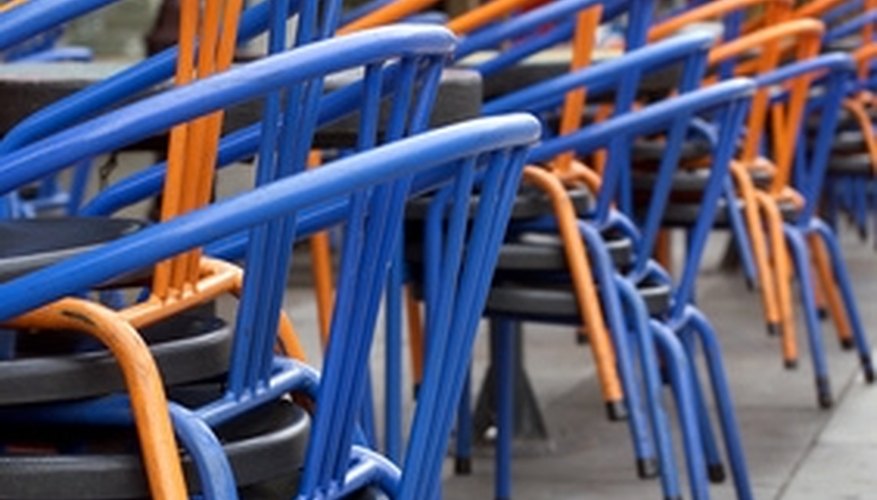 To maximize storage possibilities, choose chairs that store easily. The options include fold-flat chairs, such as the traditional card table chair, or stacking chairs. The fold-away offers a smaller storage footprint, but both are easy to store.
Folding chairs can be dressed up with decorative seat cushions and covers that tie onto the back and legs of the chair. You can custom-cover cushions with fabric that coordinates with a room's curtains or table linens. Wooden folding chairs have a more rustic, elegant look than metal chairs.
Chair covers similar to slipcovers will completely cover folding chairs. These covers offer an elegant, sculptural look conducive to fine dining. A plain white muslin or sailcloth chair cover is elegant, inexpensive to make and easy to clean.
Stacking chairs, usually available in metal or plastic, stack easily for space-saving storage. Top furniture designers produce contemporary and traditional stacking chairs; the chairs offer alternative seating options for any host. When not in in use for dining, the chairs can be stored, distributed around the house as desk and side chairs or placed in outdoor conversation groupings.