New Countertops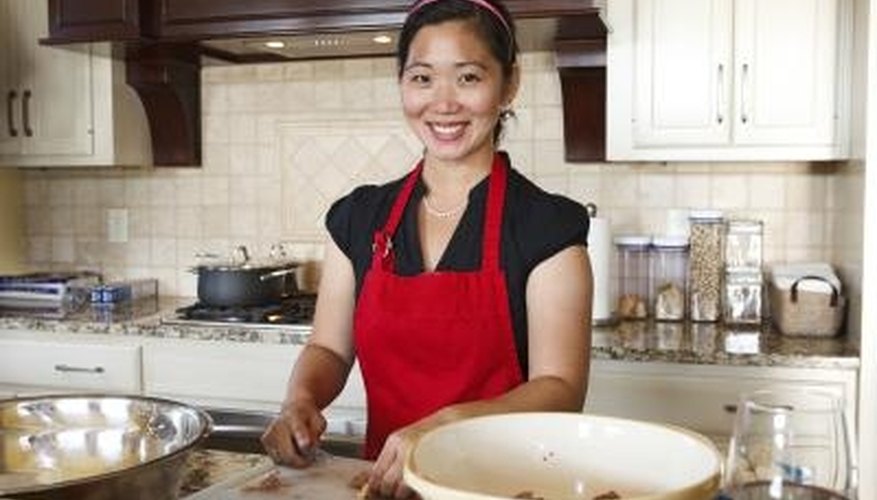 As a bonus, smaller kitchens do have one advantage. Remodeling doesn't normally cost as much because you don't have to buy as much material.
Install nice countertops. More than likely, there isn't much countertop space in a kitchen that is 10x12 feet. When you subtract all the space for appliances, such as stoves and refrigerators, as well as space for the kitchen table, you generally aren't left with much. Adding new countertops in a nicer material, such as granite, will spruce up the area without much money being spent.
Adding a Shelf
Small spaces can be manipulated for more storage. Try taking the top cabinets off the wall and raising them up higher. Most cabinets leave space at the top between the ceiling and the top of the cabinet. This is wasted space and typically only used to place decorative pieces. On the inside of the cabinet, people usually store things they don't use too often on the top shelf, so moving it up a little won't affect that. Under the newly attached, higher cabinets, you can install a shelf to place things on that you use all the time, such as small appliances, dish towels or coffer condiments, which moves these items off the countertop and gives you more working space.
Island
Add a small island to the kitchen by purchasing a kitchen workspace unit, which is freestanding and not built in to the kitchen floor. The workspace unit will add more storage space as well as counter surface. Since the space is taken up in the kitchen, hang a pot and pan rack above it to use the wasted air space, which will also free up some cabinet space for other things.
Smaller Appliances
Install appliances that are a couple inches smaller than the norm, which typically won't affect the function of your day-to-day life and will add space. You can then install longer cabinets in the spaces and gain a few inches of work surface.