Jenn-Air JDB-5 Dishwasher Specifications
The Jenn Air JDB 5 Dishwasher is available in two and three rack versions. Some models have touchpad controls while others have a cycle selector knob. All models have a safety feature whereby they switch off if the start/cancel control is not activated within 30 seconds of the dishwashing cycle being selected.
Diswasher Capacity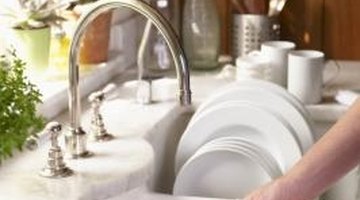 A two rack Jennair JDB-5 can take a full 10 place dinner service including glasses. However, if the full service is being washed at once pots, pans and serving dishes will have to be washed separately. A three rack Jennair JDB-5 can take a full 10 place service with pots, pans and serving dishes on the bottom rack. Other features such as special stacking areas to create more capacity depend on the model of JDB-5 you are using.
Detergent and Rinse Aid Dispensers
The rinse aid dispenser is located beside the detergent dispenser. There is an indicator on the dispenser that shows when it needs to refilled.
Heavy Wash Program
The heavy wash program lasts 132 minutes and gives the load two washes and three rinses.
Normal Wash
The normal wash program lasts between 97 and 112 minutes depending on the level of soiling detected by the dishwasher. This determines whether one or two washes or one or two rinses are used.
China/Crystal Program
This cycle is for items with light food soiling. It lasts 82 minutes and includes one wash and two rinses.
Sensor Clean Program
During this program, which is featured in selected models of the JDB-5 only, the machine's soiling sensor determines how many fills of water is needed for each load. The program lasts between 94 and 128 minutes and involves either one or two washes and two or three rinses.
Rinse Program
The rinse program gives the dishes a nine-minute rinse when the user does not wish to run a full wash program until the machine is full.
Quick Wash
This program is for lightly soiled loads and involves one wash and two rinses. It takes 38 minutes to complete.
Super Scrub
The Super Scrub feature is designed to cope with loads with food soiling that is hard to remove. It adds either heat or wash time depending on which cycle has been selected.
Heated Dry
Selection of this option gives enhanced drying results. Jennair says some items may require towel drying if this is not activated.
Water Temperature
The hot water taken into your JDB-5 should be at least 120 degrees Fahrenheit to activate the detergent and effectively deal with soiling on the dishes. If it is not, programs may take longer as the machine brings the water up to the required temperature.
Dishwasher Dimensions
The Jenn-Air website gives the following dimensions for its tall tub dishwashers: Height 34.5 inches; width 23 and seven eighths inches; Depth 26.5 inches.
References
Resources
Writer Bio
Belfast-based Neil Greenlees was made redundant in March 2009 after working as a reporter for 26 years. For most of his career he was a senior journalist with ''The Ulster Star," a weekly newspaper covering the Lisburn and South Belfast areas. Greenlees holds the National Council for the Training of Journalists Pre-Entry Certificate.
Photo Credits
Paul Viant/Photodisc/Getty Images
More Articles