Drip Pans That Fit GE Stoves
Drip pans are the metal containers under the burners on a stove. They catch the food that spills while you are cooking and help to protect your stove. Drip pans come in various sizes based on the diameter of the burners. The easiest way to find drip pans that best fit your General Electric (GE) stove is to check your stove's serial number and model number, and order parts made specifically for your appliance. This information is typically located on the frame of the oven door.
Drip Pans for GE Hinged Electric Surface Units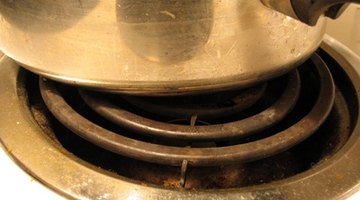 Before purchasing drip pans for your GE stove, ascertain if the burners have a hinged electric surface unit, which is mounted so that the burner can be flipped upward and the drip pan under the burner can be cleaned. Drip pans for hinged electric surface units that fit GE stoves that are available in 6- and 8-inch sizes. Look for a set of drip pans that offers sizes applicable to your stove. Most sets come with either two 6- and two 8-inch drip pans or three 6- and one 8-inch drip pans. Drip pans manufactured by GE, Hotpoint and RCA typically fit GE stoves. Most drip pans come with a one-year warranty. In most cases, rings for the drip pans are purchased separately.
Drip Pans for GE Plug-In Electric Surface Units
If you have an electric stove and it doesn't have a hinged electric surface burner, your stove mostly likely has a plug-in electric surface burner. These burners have an electrical receptacle that plugs in underneath or along the side of the unit. When shopping for drip pans that fit your GE plug-in stove burners, look for models that lock into place, which are often advertised as "lock-down" pans. Find out if your plug-in terminal is plastic or ceramic, which will help determine which drip pan to purchase for your GE plug-in electric surface stove. Like the drip pans for hinged electric burners, drip pans for plug-in electric burners are sold in 6- or 8-inch sizes and typically come with a one-year warranty. Some drip pans for plug-in electric burners come with matching trim rings, but most are sold separately. Carefully read the drip pan descriptions to ensure they are compatible with GE stoves. Even if a manufacturer claims that the drip pan is a universal model, many are only universal within a brand. For example, the Whirlpool Universal drip pan is not compatible with GE, Thermador, HotPoint or Jenn Air brands.
Drip Pans for GE Gas Stoves
Drip pans for GE gas stoves are available in round or square shapes. GE, Tappan, Electrolux, Gibson, Westinghouse, Kelvinator and Frigidaire all make drip pans that are compatible with GE gas stoves. Drip pans for gas stoves come in different sizes, so measure the diameter as well as the opening. The drip pans diameters range from about 7.5 to 8.5 inches. Most drip pans are available for purchase in porcelain or chrome finishes, and the burner grates are typically sold separately.
References
Writer Bio
A seasoned public relations professional, Kristen McClung has more than 15 years of writing and editing experience. She has created publications for a wide range of clients, including real estate, business, engineering, education, religion and non-profit organizations, and has written and edited for Work.com and contributed articles to eHow. McClung has a bachelor's degree in journalism from Indiana University.
Photo Credits
More Articles