What Are the Dangers of Bunk Beds?
Bunk beds are often a staple of kids' rooms and college dorms. Regardless of their popularity, having a bed high off the floor and directly over another one poses a definite risk for injury. In 2008, investigators at the Center for Injury Research and Policy of The Research Institute at Nationwide Children's Hospital published a study in the periodical "Pediatrics" stating that there were around "572,580 bunk bed-related injuries during the 16-year study period, resulting in an average of nearly 36,000 cases annually."
Falls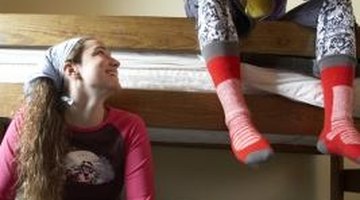 According to Sciencedaily.com, most bunk bed-related injuries came from falls. The most frequent injuries reported were lacerations, contusions/abrasions and fractures. Even though fractures were not the single-most common type of injury, kids and adolescents that had fractures were more likely to need a visit to the hospital. The head/neck and face area were one of the most common areas injured
partly because children under the age of 3 have a higher center of gravity and usually fall headfirst.
Collapsing
Having the top bunk collapse onto the lower bunk is an extremely rare occurrence. However, it's not out of the realm of possibility. For example, back in 1994, according to the website Consumerwatch.com, 4,800 metal bunk beds manufactured by the company Fashion Bed Group experienced a recall because "18 of the beds reportedly collapsed due to cracking of the tubular metal bed structure. Three injuries occurred." Rosalco, Inc. of Indiana sold 175,000 tubular metal bunk beds during the years between 1990 and 1993 -- 150 of those beds cracked and collapsed, causing numerous injuries. Incidents of collapsing have not been noted in recent years.
Strangulation and Entrapment
Some bunk beds have guard rails attached to the top bunk to prevent kids from falling off in their sleep in the middle of the night. Even so, certain guard rails have had tragic results. Some children have gotten their heads stuck on the space between the rails and the mattress, causing strangulation. Since most bunk beds only have one guardrail as they're meant for placement against a wall, some kids have gotten stuck in the space between the wall and the bed.
References
Writer Bio
Lane Cummings is originally from New York City. She attended the High School of Performing Arts in dance before receiving her Bachelor of Arts in literature and her Master of Arts in Russian literature at the University of Chicago. She has lived in St. Petersburg, Russia, where she lectured and studied Russian. She began writing professionally in 2004 for the "St. Petersburg Times."
Photo Credits
Michael Turek/Photodisc/Getty Images
More Articles