The Difference Between Cane & Rattan
The term "rattan" can be confusing for anyone selecting casual furniture or searching for vintage pieces. It is often mixed up with bamboo, wicker and cane. Rattan is a distinct plant that is very sustainable and has numerous uses in furniture making, including supplying the cane for certain styles of furniture made from flexible plant fibers.
Rattan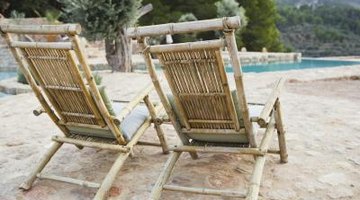 Rattan comes from a vine. That distinguishes it from bamboo, which is a giant grass. Rattan vines, or plants, are natives of the South Pacific and are cultivated in Indonesia. Each vine is a solid core plant and is very strong. Bamboo has a hollow core, like a reed. Poles of rattan are sturdy enough to use as furniture frames. They support typical weight loads for tables, chairs and even sofas. The rounded curves of casual furniture in Deco style are achieved by heating and steaming rattan poles so they will bend. As they cool, bent rattan pieces remain fixed in their curved shape. Typically, the outer skin of the vine is left on rattan poles because it has an attractive, slightly marbleized appearance with contrasting tones, and it shows the places where the plant produced nodes. That presents a tortoise-shell effect when the rattan is "burnt." If the outer skin is removed, the rattan can be stained or painted before a protective lacquer coat is applied.
Cane
Cane is part of the rattan plant. It is created by peeling off the skin of the rattan vine and wrapping it over solid hardwood poles used to frame furniture. The rattan skin is naturally mottled, which is a desirable design characteristic, and cane pieces are designed to highlight that coloring. Cane is more or less non-porous, and so it repels spills and is easy to wipe down. That and the fact that it is thin and pliable make it an ideal fiber to use for weaving chair seats or surface texture to apply to furniture facades. Sometimes cane is wound over rattan poles to highlight features of furniture design.
Wicker
When looking into purchasing fiber furniture made with cane or rattan, it helps to understand how wicker is produced. Wicker is not a plant; it is a process. Wicker uses thin strips from the core of a plant, most commonly a solid rattan vine, that are woven together when pliable. As the strips dry, they harden into tables, chairs, love seats, chests and shelves that can support weight. The material is very porous and will absorb paint and stains easily. Wicker porch furniture is usually stained a honey or a walnut color or painted white. But it can be stained or painted any color; dark green is another classic wicker furniture shade.
References
Writer Bio
Benna Crawford has been a journalist and New York-based writer since 1997. Her work has appeared in USA Today, the San Francisco Chronicle, The New York Times, and in professional journals and trade publications. Crawford has a degree in theater, is a certified Prana Yoga instructor, and writes about fitness, performing and decorative arts, culture, sports, business and education .
Photo Credits
Jupiterimages /Polka Dot/Getty Images
More Articles