Rustic Log Fence Ideas
As Benjamin Franklin once said, "Good fences make good neighbors." Whether you're marking off your acreage, protecting your cattle or simply adding privacy around your home, rustic log fences can add a signature to any landscape.
Natural Bamboo Fence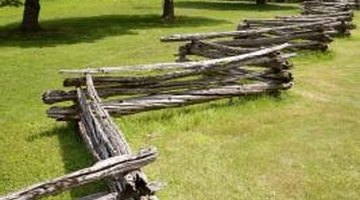 If privacy is what you're seeking, a natural bamboo fence will be perfect for you. Best of all, this fence requires absolutely no staking and little maintenance. Begin by creating an underground cement planter to guide the bamboo's growth. Bamboo grows quickly and likes to jump its containers, so you may want to place a good 2 feet of pavers around the bed to prevent overgrowth. Fill in the bed and plant some bamboo shoots, spaced 2 feet apart. After two seasons, the entire fence should be completely filled in, and you will have the perfect privacy screen.
Protective Rustic Fence
If you are aiming to protect animals on the other side of the fence, solid, thick logs will make an ideal fence. Set either steel or wood posts for support and stack the logs one on top of the other. Alternatively, you could set the logs upright instead, with a final height of 4 feet to aid in keeping out predators. If you want the whole-log look without having to work with whole logs, consider using planks with the bark left on.
Rustic Pasture Fence
Lets face it, cattle are pretty easy going and usually cooperative when it comes to set borders. Keeping that in mind, their pasture land typically doesn't require more than a basic rustic pasture fence. Create this fence with smaller whole logs for the cross supports and thinner half-logs for the fencing. If there are predators in the area, you can string some barbed wire across the outside sections of the fence to deter any animal crossings.
References
"The Fence Bible: How to Plan, Install and Build Fences and gates to Meet Every Home Style and Property Need, no Matter What Size Your Yard"; Jeff Beneke; 2005
Writer Bio
Steven White is a privately contracted software engineer and efficiency analyst. He has more than five years of experience providing technical support for AT&T broadband customers. Along with his technology background, White enjoys carpentry and plumbing.
Photo Credits
Jupiterimages/Photos.com/Getty Images
More Articles