How to Make Ceramic Tile Look New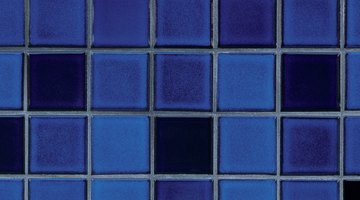 When ceramic tile is first installed, it brightens kitchens and bathrooms, often making the space look bigger. Over time, however, tile can become dull and discolored due to dirt, stains and simply age. Floor tile is particularly susceptible. If your tile is in good condition without any chips or cracks, you don't have to replace it. Try refreshing it instead with a thorough cleaning that will have it looking like new in no time.
Normal Maintenance
The easiest way to keep ceramic tile looking new is through periodic light maintenance to avoid ground-in dirt that will be harder to remove. Sweep floors first, then clean them with a wet mop and mild cleaning solution such as diluted rubbing alcohol or diluted household cleaner. Tile walls in bathrooms should also receive periodic maintenance with a damp cloth or sponge to remove water stains that can dull the surface. A mop with cloth strips or coiled yarns is the best choice for floors where the tiles are higher than the grout.
Heavy-Duty Cleaning
Renew extremely dirty ceramic tile through heavy-duty cleaning using stronger cleaning solutions. A soft brush or electric polisher/scrubber may also help remove dirt. Rinse thoroughly with warm water. Common grocery or department store cleaners can remove mildew, soap scum buildup and hard water stains on ceramic shower tile. Make sure you read instructions thoroughly before applying cleaners to any ceramic surface.
Dingy Grout
Stained and discolored grout is often the biggest culprit in making ceramic tile look dull and tired. Heavy-duty scrubbing with a nonchlorine cleaner can remove the stains and make future cleaning easier. Using a grout sealer is a longer term solution that will keep the grout looking fresh. Clean the entire area before applying sealant. To seal only the grout, apply silicone grout sealer. You may also apply sealants to an entire floor or wall area; this will repel stains and make cleaning easier while making the tile look shiny. Scrape out cracked grout with a claw-shaped, carbide-tipped tool specially made for this task. Vacuum and wipe down the area before applying new grout. Apply caulking to right-angle seams to prevent water from seeping into the wall or floor behind the tile and causing damage from within.
Commercial Refinishing
If the idea of heavy scrubbing and applying sealant doesn't appeal to you, hire a company to refinish tile that is in good shape. Refinishing is ideal for tile countertops, bathtub surrounds and walls. Bathroom floors can also be renewed.Tile refinishing involves reglazing tile through primers, bonding agents, top coats and clear finishes. Commercial operations performing this service have equipment and special processes, not available to the average homeowner, which result in increased shine and durability.