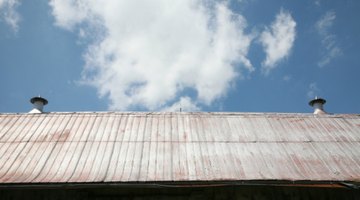 Designed to enhance roof ventilation, turbine vents alleviate hot air from attics, relying on wind blowing across roofs to remove the air and replace it with cooler air through convection. Turbine vents also keep rain, snow and insects from entering attics. Purchasing the best vent is important for maintaining a properly ventilated attic.
Whirlybird
Providing permanently lubricated upper and lower ball bearings, the Lomanco 12-inch Whirlybird Turbine Ventilator is guaranteed to last forever, requiring no maintenance.The internally-braced design reduces winter ice buildup, increasing energy bill savings; and it is able to withstand winds up to 147 MPH. The additional 21 air foil-curved vanes deflect against water.
Master Flow
Created from rust-resistant steel, the Master Flow 12-Inch Galvanized Turbine is easy to install and adjust, with a large octagon design and small one-piece base. The accompanying Master Flow Turbine Cap can be purchased to protect the turbine in dangerous weather conditions, keeping rain and wind from entering an attic.
Air Vent
Coming in external and internal styles, Air Vent's turbine vents are suitable for both hot and cold weather conditions. The patented Delrin bearings replace squeaky metal parts with an acetal polymer resin, providing quiet operation. Air Vent turbine vents are available in black, brown and weatherwood, and are popular for their low cost and high efficiency.
References
Writer Bio
Hannington Dia began writing and editing articles for a youth-oriented blog at his downtown youth center in 2007. He is a freelance writer and has worked for various websites since 2009. He runs his own blog, HD in Effect, and attends the City College of New York, pursuing his Bachelor of Arts in English.
Photo Credits
Jupiterimages/Photos.com/Getty Images
Jupiterimages/Photos.com/Getty Images
More Articles