Balloon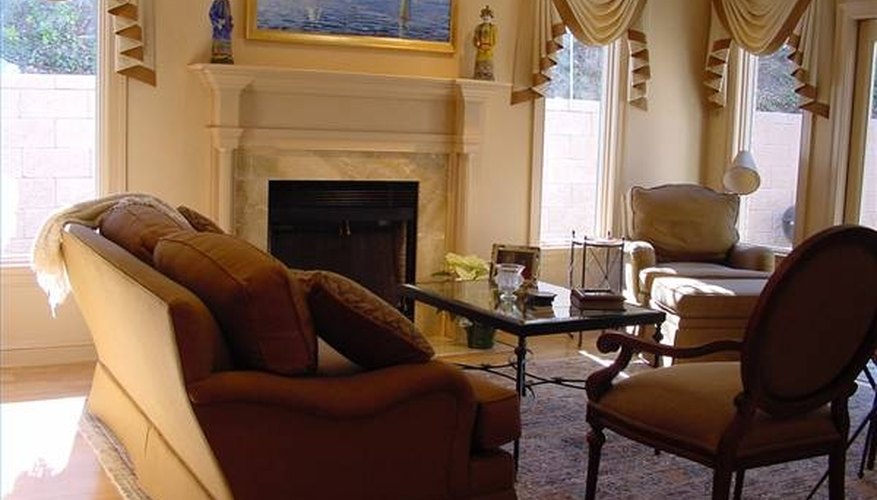 Curtain valance ideas include ways to compliment window coverings such as drapes, blinds and shades. Used alone, curtain valances are also a decorative solution to unattractive drapery hardware.
Balloon curtain valances are traditional in design. As the name suggests, balloon valances are full and billowy. These valances consist of gathered, pleated or shirred fabric pouches. They are often made from lighter weight fabrics for ease in positioning the balloon-like fabric pockets. Stuff the balloon valance with tissue paper to increase the fullness for a more sumptuous look. They are ideal for romantic bedrooms or a formal space with a classical theme.
Swag and Jabot
The concept of the swag curtain valance is simple, lengths of fabric are looped and draped over a decorative curtain rod with fabric gently trailing down each side of the window. Swag valances are created with sheer fabrics and are appropriate in romantic, formal or casual rooms. Elegant swag and jabot sets are made from weightier fabrics and feature pleated tails or soft folds of fabric flanking the window. The jabots or tail sections are frequently lined with a contrasting fabric.
Banner
Banner curtain valances are a sequence of fabric triangles affixed to a mounted board, hung through a rod pocket or simply folded over a rod. Another name for the banner valance is the handkerchief valance. The kerchief version of the banner valance is an easy no-sew project. Fold bandannas on the diagonal and drape end to end over the length of a curtain rod. A bandanna valance is a fitting window accent for country or lodge-style interiors.
Box Pleat
The box pleat valance is a tailored treatment reminiscent of a crisp, pleated skirt. Box pleats are a series of precise, double pleats created from back-to-back knife pleats. The box pleat curtain valance is a suitable style for any room setting. Select raw silks, linen or cotton that hold a crease and retain the finished shape of the box pleat. For added interest, choose valances with contrasting fabric inside the pleat.
Gathered Rod Pocket
Rod pocket curtain valances are a common, yet fashionable, valance idea for any decor. They are widely available, inexpensive to buy and extremely easy to make. Measure the length of your curtain rod and double (or triple) the measurement for the width of the valance. This will provide ample fullness when gathered onto the curtain rod. To make a rod pocket valance, simply hem the length of fabric along the lower edge. Create a deeper hem or casing along the upper edge by folding fabric onto itself and stitching in place.