Build Your Own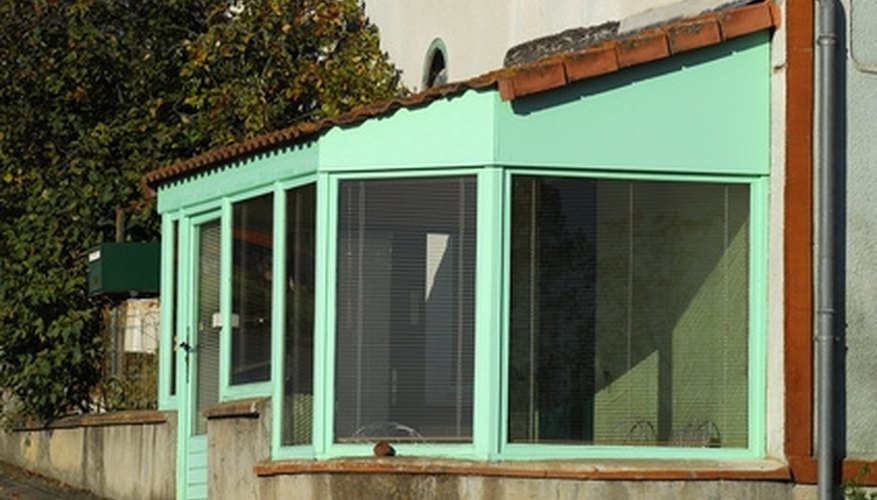 Many people choose to go with a simple screened-in patio design to elude pesky mosquitoes on a warm summer evening. Some homeowners go even further and convert an open patio space to an enclosure that allows them enjoy the patio on a year-round basis.
The traditional method consists of installing 4-inch by 4-inch columns and a cross beam to support the weight of the roof. The roof design can range from a simple shed roof with a slight angle, which butts up against the wall of the house, to a more complex gable or hip roof structure that matches the roof on the home. Use 2-inch by 4-inch boards to construct the openings. Staple mesh screening in place and finish with molding. Choose from roofing materials, such as shingles, cedar shakes, corrugated tin and asphalt rolled roofing.
Install a kit
A popular option for an existing patio with a roof in place is a kit with aluminum framed screen panels.The installation process can usually be completed in a day and is often performed by professional installers. However, it is a suitable project for do-it-yourself installation. Depending on the product, you may need to rent or acquire specialized tools and work to get a feel for tightening the panels.
Usually, matching screen door panels can also be purchased and installed, which makes for a seamless patio screen enclosure. The panels are available in a variety of colors. so panels blend in with the existing setting. The screen panel kits can also be purchased in wood, which is more expensive. The roof of the patio must extend at least 15 inches beyond the screen enclosure to help shield the screening from falling rain.
Some more elaborate patio enclosure assemblies are made of light weight commercial grade aluminum. You can purchase enclosures for seasonal use during the warm months or buy systems that can be used the year around. Many kits include all the components necessary to construct a patio enclosure, including roofs, walls, windows, screens and doors.
Even the more basic do-it-yourself installation processes usually require assembling the frame components; erecting and mounting the frame to the house structure, and installing the wall and roof glazing panels. Generally, the glazing for the wall and ceiling panels consists of acrylic sheets, which are lightweight, shatterproof and very clear. Depending on the patio enclosure system you buy, windows can be raised or lowered and screens can slide up and down.