John Deere Gator Identification
Table of Contents
Founded in 1837, John Deere is an American equipment manufacturing company based in Moline, Illinois. Although associated primarily with tractors, John Deere also produces a line of all terrain vehicles known as the Gator.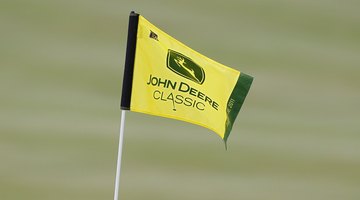 Identification
John Deere Gators are ride-on equipment generally designed for one driver and one passenger. Gators features all-terrain tires that allow users to drive the vehicles on grass, rocks and dirt.
Types
John Deere produces three types of utility Gators: the CX, the T Model and the HPX. The Gator is also available as the specially designed M-Gator and the Gator XUV Crossover.
Uses
John Deere utility gators are designed for transporting materials and people on large golf courses, farms and ranches, while the XUV crossover is made for recreational off-roading. The M-Gator was designed for combat and used by the U.S. military to transport weapons and supplies.
Features
John Deere Gators are available with gasoline or diesel engines. There is also an electric-powered utility Gator known as the TE-Gator. The utility Gators are bright green and yellow in color like John Deere tractors, while the crossover and M-Gators are dark green or camouflaged.
Cost
As of December 2009, utility Gators prices began around $5,500, while the starting prices for crossovers was approximately $10,000.
References
Writer Bio
Faith Davies has been writing professionally since 1996, contributing to various websites. She holds an LAH insurance license in the state of Pennsylvania and has experience as a bank branch manager and lending officer. Davies graduated cum laude from the University of Pittsburgh with a Bachelor of Arts in art history.
Photo Credits
Michael Cohen/Getty Images Sport/Getty Images
Michael Cohen/Getty Images Sport/Getty Images
More Articles