How to Locate Discontinued Laminate Flooring
Laminate flooring is a durable and popular home improvement project, and a reputable flooring dealer will always encourage a buyer to purchase extra flooring when installing a laminate floor.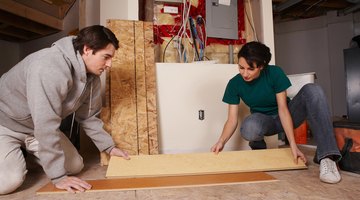 The idea behind having an extra case of laminate in your storage area isn't solely to increase sales; if a plank of flooring is damaged and needs to be replaced, many homeowners are dismayed to find the color, style or pattern has been discontinued and is no longer available from their flooring dealer.
Contact the manufacturer of the product that has been discontinued; ask for the customer service representative.

Explain what product you're looking for and the quantity that is needed.

Ask for a list of distributors that have carried the discontinued laminate flooring as well as the contact information for each distributor.

Call each of the distributors and ask for the product. Typically, each distributor will have a running inventory on their computer and will be able to determine within minutes whether they have the product or not.
Tip
If the discontinued product was purchased from a major chain home improvement store, the store can check product inventory throughout the country.
Writer Bio
Robin Hewitt began her writing career in 2008. She is the coauthor of several books, including "The Joyous Gift of Grandparenting," which covers the nutritional and fitness needs of both grandchildren and grandparents.
Photo Credits
Jupiterimages/Photos.com/Getty Images
Jupiterimages/Photos.com/Getty Images
More Articles