Moulin Rouge Style Decorating Ideas
Table of Contents
When you hear the term "Moulin Rouge," you might think of the movie starring Nicole Kidman. But Le Moulin Rouge is a real night club in Paris. The name means red windmill and Le Moulin Rouge sports one on top of its main building. Moulin Rouge décor is part Bohemian and part French bordello.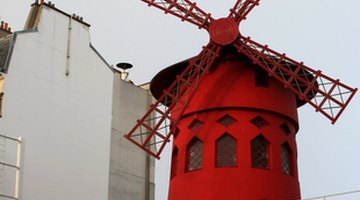 It borders on seedy while maintaining a certain sophistication. A can-can girl would be right at home in a Moulin Rouge-inspired room surrounded by elegant fabrics and elaborate embellishments.
Colors
Rich colors like deep reds, purples and blacks encourage the dark, Bohemian look that highlights Moulin Rouge décor. Complementing them with metallic golds and silvers adds the sophistication that gives the style depth and a certain amount of class.
Fabrics
Moulin Rouge style demands sumptuous, sensuous fabrics. Silk sheets, satin blankets and velvet bed spreads set the tone in your bedroom. Window treatments are heavily layered with velvet swags over floor-length brocade drapes and lace curtains. Tapestry, brocade and silk are the order of the day for upholstery and throw pillows. Tables are dressed in tasseled silk, brocade and lace.
Lighting
Hang a crystal chandelier over your bed, in the foyer and even your bathroom, Use a large one to anchor the dining room table or dangle a small one with red crystals in a corner above an armchair. Candles grouped on tables, reproduction gaslight sconces and beaded lampshades all add to a romantic feel.
Furniture
Shop for vintage French wing chairs and complement them with a camelback settee or fainting couch covered in velvet. Flea markets and garage sales can hold treasures like these that need some tender loving care to shine. With some imagination and appropriate accessories, your existing furniture will work just fine. Choose side tables in dark wood with fancy inlay surfaces and graceful legs with elaborate carvings. A mahogany dining table surrounded by upholstered chairs continues the Moulin Rouge décor. Store your clothes in an intricately embellished armoire.
Accessories
Feather boas, and fringed shawls and throws draped over your couch contribute to the layered, richly embellished look. Beaded curtains in doorways and groups of perfume bottles on your dressing tables and bathroom vanity add to the cluttered Victorian style that is an important part of turn-of-the-century Parisian decorating. Take that look one step further by covering the walls with tapestries, ornate gilt mirrors and Paris-inspired prints or photographs. You can find photos online at sites that offer free downloads. Feature an old coat tree hung with black silk stockings, black and red lace lingerie, a feathered hat, boas and strands of pearls. Crowd the fireplace mantel with vintage photos in ornate frames, red roses in crystal vases, and candles in tall silver and gold candlesticks.
References
Resources
Writer Bio
Jan Czech has been writing professionally since 1993. Czech has published seven children's books, including "The Coffee Can Kid," which received a starred review from School Library Journal. She is a certified English/language arts teacher and holds a Bachelor of Arts in education from Niagara University.
Photo Credits
le moulin rouge (3) image by Jean CEZARD from Fotolia.com
le moulin rouge (3) image by Jean CEZARD from Fotolia.com
More Articles