How to Clean a Black Granite Headstone
A black granite headstone is a sophisticated, respectful material of choice used to honor the memory of someone. This type of headstone will withstand many years of outdoor exposure without diminishing in quality or appearance.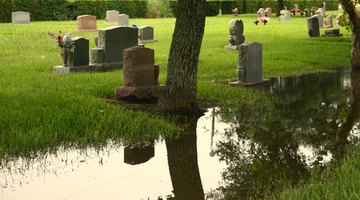 Things You Will Need
Spray bottles
Cleaning rags
Toothbrush
Water
pH-neutral dish soap
As time passes, the granite collects dirt, pollen, hard water spots and other outdoor elements that require you to clean the headstone on occasion. You can do this with a handful of inexpensive cleaning ingredients and a few minutes of your time.
Fill one spray bottle with water.

Fill a second spray bottle with a mixture of 2 cups water and 1 squirt pH-neutral dish soap, which will safely clean the black granite.

Spray the cleaning solution directly onto the headstone.

Scrub engravings and other crevices with an old toothbrush. Wipe the rest of the headstone with a regular cleaning cloth.

Spray the entire headstone with plain water, and wipe clean with a fresh cleaning cloth.

Restore shine to the headstone by buffing with a clean, dry cleaning cloth. The black granite tends to accumulate water spots and streaks, so taking time to dry the headstone greatly improves the appearance of the granite.
Writer Bio
Mel Frank is a professional freelance writer with over 15 years of writing experience. She has completed a wide variety of writing assignments for a number of publications that include CNN and various websites. Frank received a Bachelor of Fine Arts from a prestigious university in Pennsylvania.
Photo Credits
Tombstones Waiting to be Inscribed image by Lucid_Exposure from Fotolia.com
Tombstones Waiting to be Inscribed image by Lucid_Exposure from Fotolia.com
More Articles