Advantages of Epoxy Paint
Epoxy paint is one of several types of paint. Epoxy can be applied to both indoor and outdoor surfaces, but is commonly used as a practical indoor floor covering surface. When dry, epoxy paint becomes a hard, durable surface, making it the perfect choice for a flooring covering.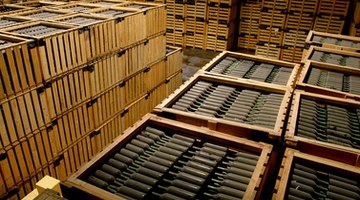 The biggest drawback to epoxy paint is that the paint contains slightly toxic fumes and is difficult for the average person to paint with. Also, if mistakes are made, or the paint surface does not dry flat and smooth, it can be extremely difficult and expensive to correct.
Impact Resistant
Epoxy paint is extremely strong and impact resistant, meaning it won't fracture, crack, or split if items are dropped or driven over the surface. Due to this strength, epoxy paint is commonly used in warehouses, garages, and auto repair shops.
Slip Resistant
Most epoxy paint is slip resistant even when wet or oily. Utilizing a water-based, two-part acrylic epoxy system, epoxy paint is able to provide a safe, slip-resistant surface. If the area is one of heavy traffic, you may want to consider using a non-slip epoxy coating, which provides a textured surface for an extra level of protection, that exceeds UL (Underwriters Laboratories) and ASTM (American Society for Testing and Materials) requirements. The additional textured surface is commonly used for platforms, ramps, machine shops, and marinas.
Fire Resistant
Most epoxy paints are flame retardant, or resistant to fire. They can withstand heat up to 200 degrees Celsius or around 390 degrees Fahrenheit. To be sure the epoxy paint you are using is fire resistant, check the product label. Due to the fire resistance of epoxy paint, it is commonly used in fire escapes, commercial airline products, and explosive production and storage areas.
Water Resistant
When dry, epoxy paint provides a seal that protects the concrete from underlying ground water and from any water or liquid that gets spilled on the ground. Epoxy paint is also resistant to chemical spills. The chemicals will not soak into the paint, making for easy cleanup.
References
Writer Bio
Kallie Johnson began her writing career in 2009, contributing to various online publications. She holds a Bachelor of Arts in English from the University of Nevada, Las Vegas. She enjoys writing home and garden topics and considers herself an expert on do-it-yourself home improvement topics.
Photo Credits
warehouse image by enens from Fotolia.com
warehouse image by enens from Fotolia.com
More Articles