Art Projects Using Venetian Blind Slats
Even people who regularly recycle and upcycle objects some would consider garbage have difficulty finding things to do with the plastic slats on venetian window blinds. Fortunately there are a number of projects that can be done with the slats after you shorten or have accidentally broken your blinds.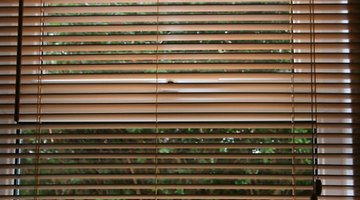 Book Marks
Plastic slats are usually thin enough to make an excellent bookmark. They can be cut to any length, and to any shape with careful use of an X-acto knife. Acrylic paints will stick to them but you could also experiment with collaging each piece. The plastic slats can also be easily pierced and strung with beads. Try using a wide slat to make an elephant shaped bookmark by cutting out a profile of an elephant's head and trunk.
Wind Chimes
Metal blind slats are a bit dangerous and more difficult to cut if you aren't careful, but they make a lovely chiming noise that can be easily accentuated by stringing bits of bright glass chunks, bells or beads to slats of varying lengths. Hang it from an outdoor corner where it can catch the light and you might find the mirrored reflection of a sunset on your floor.
Wooden Slats
Wooden slats are the easiest to reuse since they are easily cut, broken, sanded, sculpted and otherwise molded into new shapes. If you cut four slats with a 90 degree angle on either end facing in opposing directions you can use them as a frame for pictures. Or staple slats onto the sides of a large bird house to make an attractive and realistic house-siding appearance. Etch patterns into the slats and nail them to the walls of a room as though they were crown molding, for a truly unique effect.
Writer Bio
Carmen Laboy has been publishing short stories and poetry since 1998. Her work appears online and in "Tonguas Experimental Literature Magazine." She was a script reader for the Duke City Shootout 2010, arts education intern at 516arts gallery and has worked as an assistant for many artists. She studied at the Universidad de Puerto Rico and Escuela de Artes Plasticas, a prestigious art college.
Photo Credits
window blind image by mark humphreys from Fotolia.com
window blind image by mark humphreys from Fotolia.com
More Articles