Products to Help Remove Dust From Basement Floors
The family dog and unfinished concrete basement floors have one thing in common: they shed. The dog sheds hair and the basement floor sheds dust—huge quantities of it. Keeping up with either can be an unending task. But don't despair; there is good news.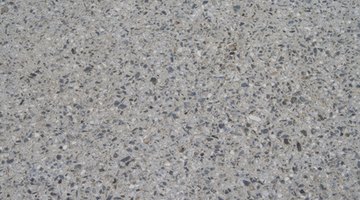 You can get the dog clipped and you can clean up the dust from the basement floor and keep it from recurring.
Common Cleaning Products
Traditional cleaning products can go a long way in removing dust from a concrete floor. Sweep up as much debris and dust as you can. Vacuum the floor. Use a bucket of warm water mixed with some dish washing soap or an all-purpose cleaning product such as Mr. Clean, Pine Sol, or Oxi-Clean, and a mop. Rinse the floor with clear water and then go over it with a dry mop.
Alternative Cleaning Products
You could also use less toxic cleaners, such as white vinegar, lemon juice, or baking soda. These cleaners need to be rinsed off with a clean mop and water, and the floor must be dried.
Stains
If, in addition to dust, your basement floor is stained, try these products: chlorine bleach and water; ZUD, Bar Keepers Friend, or muriatic acid for removing rust; tri-sodium phosphate (TSP) for oil stains; chlorine bleach for mold and mildew; and muriatic acid for florescence (minerals leached out of the concrete that form a whitish bumpy scale). Rinse the floor thoroughly and dry after applying any of the stain removers listed here.
Sealant or Paint
Now that the floor is thoroughly clean, it is time to prevent the dust problem from coming back. Seal the floor with Quikrete Multi-Surface Concrete Sealer, Valspar 002.0051390.007 VOC Quikrete Wet Look High Gloss Concrete Sealer, Base 2 Concrete Sealer, Industa-Seal 117, to name just a few. You can paint or stain a concrete floor with products such as Drylok Concrete Floor Paint, Sure Step Gray Pearl Acrylic Anti-slip Concrete Paint, BEHR Deep Base Solid Color Concrete Stain, or Rust-Oleum Expoxy Shield One Part Concrete Floor Paint. You must paint concrete floors with a product specifically designed for concrete; otherwise, the paint will chip off. You could also use a tough epoxy coating on the floor. A couple of examples are Rust-Oleum EPOXYShield Concrete Resurfacer Kit and BEHR Epoxy Acrylic Latex Coating.
References
Writer Bio
Tanya Lee is a professional writer with more than 30 years experience. She has published extensively in the field of education and as a journalist, the latter in such publications as "High Country News" and "News from Indian Country." Lee holds a M.Ed. from the Harvard Graduate School of Education.
Photo Credits
Сement floor, great for backgrounds and textures image by Andris Daugovich from Fotolia.com
Сement floor, great for backgrounds and textures image by Andris Daugovich from Fotolia.com
More Articles