Removing Glued Down Commercial Carpet
Businesses often glue carpet directly to the flooring to reduce the ripple effect that carpet can suffer that is not glued down. Over time heavy traffic will cause carpet to become loose, saggy and suffer creases if it is under constant daily commercial traffic abuse.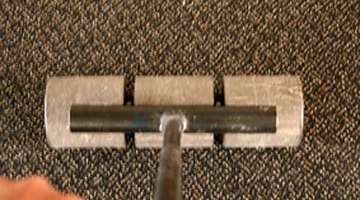 Things You Will Need
Floor scraper
Utility knife
Biodegradable, soy based, adhesive or mastic remover
Handheld sprayer
Squeegee
Dish soap
Commercial businesses that have wheeled traffic from hand trucks, wheel chairs or other devices tend to always elect to have their carpet glued directly to the floors surface. Removal of glued carpeting carpeting can prove physically challenging.
Tear up a corner of the carpet and pull backward. Lift it up from the glued floor surface. Cut the carpet into manageable strips using a utility knife.

Jab a floor scraper under the carpeting to lift and pry the carpeting from the glue. Work at it an inch at a time, jabbing, pulling and cutting the carpet into manageable pieces.

Scrape the entire floor using the floor scraper once the carpet is removed and gone to pull up the carpet adhesive. Vacuum up any carpet glue that is small and loose using a shop vacuum.

Spray the carpet adhesive using a biodegradable, soy-based, adhesive or mastic remover. Allow the substance to sit on the floor's surface for 20 minutes.

Scrap the carpet glue from the floors surface using the floor scraper. Dispose of the adhesive pieces.

Wash the entire floor using a gallon of water with two or three squirts of dish soap. Squeegee the entire floor. Allow to dry for a few days before laying new carpeting.

Warning

Do not use paint remover, acetone or xylene to remove glued down commercial carpet because the substances are highly flammable and produce toxic fumes.
References
Writer Bio
Based in Oregon, Kimberly Sharpe has been a writer since 2006. She writes for numerous online publications. Her writing has a strong focus on home improvement, gardening, parenting, pets and travel. She has traveled extensively to such places as India and Sri Lanka to widen and enhance her writing and knowledge base.
Photo Credits
carpet roller image by Greg Pickens from Fotolia.com
carpet roller image by Greg Pickens from Fotolia.com
More Articles