Painting Ideas for Walls With Chair Rails
Chair rails are simple pieces of molding installed 24 to 36 inches up the wall from the floor. Practically, they exist to protect walls from damage when chairs or other furniture are pushed up against them. Decoratively, chair rails are subtle architectural details that add charm and character to a space.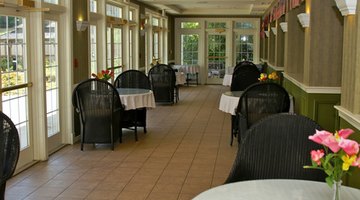 They present both design challenges and opportunities for homeowners preparing to paint the walls.
Light and Dark Colors
Chair rails create two distinct wall spaces -- one above and one below the rail. Choose different shades of one color for each wall section for effects that range from subtle and relaxed to bold and bright. Begin with a simple white chair rail. Paint the space below the chair rail with a dark shade of your color: dusty purple, burgundy and mocha are adaptable options. The area above the chair rail gets a lighter shade in the same color family: lavender, rose or cream are lighter intensities of the paint on the lower walls. Keeping the deep shade below the chair rail avoids making the room feel small or crowded; the lighter color on upper walls maintains the open airiness of the room.
Complementary Colors
Choosing two complementary colors for upper and lower walls makes a bolder statement. Both complementary and contrasting colors are modern updates for the traditional look of a chair rail. Colors that oppose each other on the color wheel are complementary: orange and purple, red and teal, or yellow and violet. Muted or gray-toned hues are a softer choice for balancing vivid opposites -- dusky lilac and pale buttercream is very light; rose and translucent jade are dynamic but delicate. Go for contrast with slate gray lower walls paired with neon yellow or lime upper walls -- a lively contemporary color choice. A natural wood or black enamel chair rail divides the two.
Skinny or Wide Stripes
Incorporate vertical lines in a wall design to complement the horizontal lines of a chair rail. Patterned wallpaper will do the job but you can paint stripes and never worry about messy wallpaper removal when your decor changes. Choose a muted, solid color for the area below the chair rail; light colors such as sky blue, mint green or pale yellow are suitable. Above the chair rail, use painter's tape to mark off vertical lines spaced anywhere from 2 inches to 1 foot apart. For the simplest application, paint the entire wall and remove the tape to reveal crisp thin lines. Space the tape -- and move it once the first coat is dry -- so that you paint every other stripe for a richer, more complicated design with uniformly wide stripes.
References
Resources
Writer Bio
Hannah Wahlig began writing and editing professionally in 2001. Her experience includes copy for newspapers, journals and magazines, as well as book editing. She is also a certified lactation counselor. She holds a Bachelor of Arts in English from Mount Holyoke College, and Master's degrees in education and community psychology from the University of Massachusetts.
Photo Credits
Breakfast Room image by Stephen Orsillo from Fotolia.com
Breakfast Room image by Stephen Orsillo from Fotolia.com
More Articles