Cheapest Way to Build a House
Building your own home from the ground up can be an incredibly rewarding process that can give you considerable control over cost.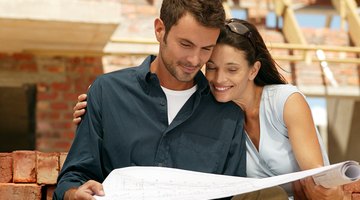 Carefully choosing functional yet inexpensive material, doing the labor yourself, acting as the general contractor (GC) and hiring subcontractors for certain aspects of the job, all will hold down the cost of building a home. Paying attention to the money-saving details will allow you to save 25 percent or more.
Put yourself in charge of the project by acting as the general contractor. Hire individual subcontractors rather than a home-building company. Doing this will require significant legwork on your part, and you will need to oversee the project in detail, but it can save you upwards of 25 percent on the overall costs, according to Carl Heldmann, a builder who runs the "Build Your Own House" website.

Draw up plans, or hire a planner to draw up blue prints for you, and apply for any building permits you will need from your local authorities.

Purchase durable yet inexpensive building material. When possible, order your material through a bulk distributor or make use of recycled and used material. Timber purchased from old barns or from other private individuals can sometimes save you significant amounts of money, says "Good Cheap Houses," a CNN Money article published online.

Use the standard 4-inch module to plan your home's sizes and proportions. Deviating from the standard building unit wastes money with increased hours of cutting and altering materials. It also adds to construction waste.

Build your home tall rather than wide. According to CNN Money, it is less expensive to build framing up rather than pouring more foundation. Build multiple levels if you require a larger home.

Do as much of the work as you can. For example, you may need to hire a plumber when you begin building the kitchens and bathrooms, but you can lay the tile and install the counters and bath tubs, which will save labor costs.

Warning

Make sure you obtain all the necessary building permits. Failure to do so can result in hefty fines, negating the benefits of finding money-saving ways to build your home.
References
Resources
Writer Bio
Bryan Schatz began writing in 2009. His articles appear on eHow and LIVESTRONG.COM, where he specializes in travel, wood and metal craft and fitness topics. Schatz holds a Master of Arts in education and a Bachelor of Arts in community studies from the University of California, Santa Cruz.
Photo Credits
Goodshoot/Goodshoot/Getty Images
Goodshoot/Goodshoot/Getty Images
Goodshoot/Goodshoot/Getty Images
Visage/Stockbyte/Getty Images
Photos.com/Photos.com/Getty Images
Goodshoot/Goodshoot/Getty Images
Jupiterimages/Photos.com/Getty Images
More Articles