The Best Rec Room Flooring Ideas
"Rec rooms" (short for recreational rooms) are fun, relaxing game rooms in a house or apartment. Often equipped with a pool or ping-pong table, foosball table and some type of entertainment system, rec rooms are places to entertain or unwind after a long day or week.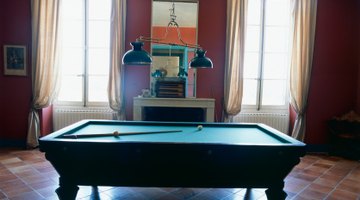 Because rec rooms encourage high-energy and lots of activity, the best rec room flooring ideas are surfaces that can take some wear and tear. However, just having a concrete floor could be dangerous; if people dance or play rowdy games in your rec room, concrete flooring is an unsafe—and unattractive—choice.
Pre-Finished Wood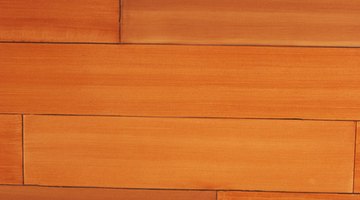 Wood is an ideal rec room flooring idea for families. While wood is not resistant to marring or cracking, you can install a "pre-finished" wood floor, a more durable option. Pre-finished floors have planks that are carefully pieced together with staggered joints and are power nailed to keep them sturdily in place and resistant to moisture leaks. You can also coat the wood floor with protective wax periodically to prevent scratching and general wear-and-tear. The floors are easy to clean and some wood types—such as cedar and bamboo—are water resistant, meaning you do not have to fret about a soggy, buckling floor. Rec rooms that have pool tables will benefit from wood flooring, too; if a ball hops off the table, it could crack a tile, but it will not damage wood.
Ceramic Tile
For a classy style, terracotta tiles are an ideal rec room flooring option. Terracotta tiles, mostly kept in their natural, clay-red coloring, add a Spanish or Mexican look to the rec room. Terracotta flooring is ideal for a rec room that opens out to a patio or deck for a fluid indoor-outdoor space. The tiles are easy to clean and simple enough to install with grouting. If a tile cracks, you can replace the tiles individually without tearing up the floor. Because terracotta tiles can be cut to any shape, you can choose whether to have round tiles, octagonal tiles or squares. If you choose to go with terracotta flooring, make sure to select a one especially resistant to cracking, often those that are baked longer in a kiln. You can also speak with a flooring specialist about the advantages and disadvantages of using a outdoor flooring material inside.
Carpeting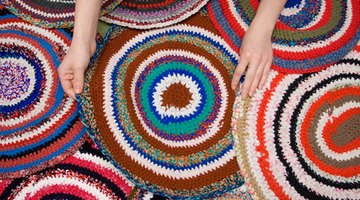 If you have young children, or are worried about falling or slipping on a hard floor, carpeting a rec room may be the best option. While you do not want to pick a thick carpet type for game playing purposes, thin, wall-to-wall carpeting will provide a protective layer of cushioning. You can get creative with carpeting color choices and patterns. You can arrange cut carpet pieces in patterns or mock-tiling with carpet squares. Dark reds, blues and green carpets look attractive in downstairs spaces; for upstairs, or more well-lit rec rooms, a cream color carpet or light blue may look nice, if you are not too anxious about spills and stains.
References
Writer Bio
Noelle Carver has been a freelance writer since 2009, with work published in "SSYK" and "The Wolf," two U.K. literary journals. Carver holds a Bachelor of Arts in literature from American University and a Master of Fine Arts in writing from The New School. She lives in New York City.
Photo Credits
David De Lossy/Photodisc/Getty Images
David De Lossy/Photodisc/Getty Images
wood background image by MAXFX from Fotolia.com
carpet image by Podfoto from Fotolia.com
More Articles