Can I Put a Shower Curtain in the Washing Machine?
The washing machine is not just for dirty clothes, but an excellent appliance for cleaning dirty shower curtains. Everything from fabric curtains to vinyl or plastic liners can be placed safely in the washing machine to remove dirt, grime and soap scum.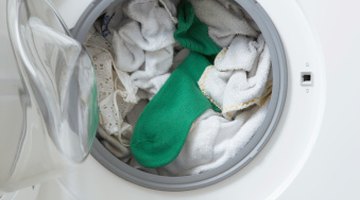 Benefits
The steam in the washing machine, combined with a cleansing detergent helps remove dirt and grime. The right cleaning solution also will kill effectively any mildew or mold, which commonly grow in the humid conditions of the bathroom.
Cleansing Solution
Adding bleach to regular laundry detergent helps kill any bacteria or mold present on the shower curtain. Vinegar will help remove soap scum. Add detergent, 1 cup of bleach and 1 cup of vinegar to the wash, according to Mrs. Clean USA. Also add old towels to the wash to fill up the machine.
Warnings
For colored fabric curtains, bleach may cause discoloration. Use color-safe bleach alternatives and be sure to spot test the product on an inconspicuous area of the curtain. Some fabrics and plastic liners can be damaged by the washing machine, so its best to wash using the gentle cycle. Also use cool water to prevent melting plastic, according to the Creative Homemaking website.
Drying
Remove the shower curtain after the washer's spin cycle. Hang up in the shower to drip dry.