How to Decorate a Wall With Scarves
If decorating your walls with the same old posters, artwork and photos leaves you feeling uninspired, spruce them up with scarves. Old scarves hanging in your closet look much better as art on your walls, so think outside the box and create your own decor.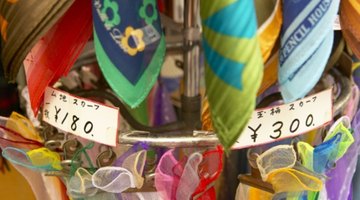 Things You Will Need
Thin, patterned scarf
Yardstick or measuring tape
Frame
Stretched canvas
Staple gun
Scissors
Scarf wall hangings are not only original, they also adorn your walls with patterns and textures you won't find elsewhere. Whether framed, stretched or hung, scarves make a distinct impression.
Framed Scarf
Measure the dimensions of your scarf and order a frame of matching dimensions.

Take your scarf to a dry cleaner and have it pressed flat, or carefully iron it yourself using the "delicate" setting on your iron.

Carefully drop it into your frame and press the frame shut, making sure not to wrinkle the scarf in the process. Hang it on your wall.
Stretched Hanging
Buy a pre-stretched canvas that is smaller than your scarf. The scarf should be large enough to wrap all the way around the canvas.

Lay your scarf flat on the ground with the side you want to display, facing down.

Lay your stretched canvas face down, on top of the scarf.

Holding the canvas in place, stretch the scarf over one side of the canvas and pull it around the back of the frame, as though stretching a canvas or wrapping a present.

Staple the scarf to the back of the frame with staples one inch apart.

Repeat this process with the adjacent side, stretching the scarf around to the back of the canvas and stapling it in place. As you stretch it back into place, fold the corner into itself as you would when wrapping a gift. Staple that fabric together.

Continue this process until the scarf is pulled tightly over the canvas and stapled in place. Use your scissors to trim off any excess material on the back of the canvas.

Tip

Look for silk scarves at thrift stores and yard sales. Even if they're dirty or wrinkled, you can have them dry-cleaned for a relatively low price or hand-wash them and drip dry.
Writer Bio
Tom Ryan is a freelance writer, editor and English tutor. He graduated from the University of Pittsburgh with a degree in English writing, and has also worked as an arts and entertainment reporter with "The Pitt News" and a public relations and advertising copywriter with the Carnegie Library of Pittsburgh.
Photo Credits
Jupiterimages/Photos.com/Getty Images
Jupiterimages/Photos.com/Getty Images
More Articles