How to Wash Laura Ashley Bedding
Laura Ashley is the maker of feminine and lovely bedding, pillows, sheets and even mattresses. The bedding is made of microfiber and can be washed at home. Take care of your Laura Ashley bedding to ensure it stays beautiful for years to come. Laura Ashley bedding can be purchased online and at many retailers.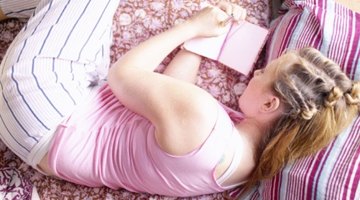 The style of bedding is known by its decorative floral patterns and pastel colors.
Put your Laura Ashley bedding into the washing machine along with some mild detergent.

Wash the bedding on the gentle or delicate cycle in cold water so the bedding won't shrink.

Put the bedding into the dryer immediately after it is done washing. Dry on low heat.

Check the bedding after one dryer cycle. Pull the bedding out and shake it a little, then put it back into the dryer. The bedding must be thoroughly dried, and this could take at least two cycles.

Remove the bedding from the dryer, shake it out gently, and return it to your bed.
Tip
If you don't have a large size washer and dryer, you may have to take your bedding to a laundromat or dry cleaners for laundering. Laura Ashley bedding may be too large to fit into standard sized washing machines.
References
Writer Bio
Christi Aldridge has been writing professionally since 2009. She graduated from Texas Christian University, where she was a featured contributor for several campus publications and won an award for best columnist.
Photo Credits
Jupiterimages/Photos.com/Getty Images
Jupiterimages/Photos.com/Getty Images
More Articles