How to Make an Unfinished Basement Bedroom
An unfinished basement is an often underused part of the home. Even unfinished, a basement may add valuable and flexible space to the home, including adding an extra bedroom. The amount of work required to install an extra bedroom will depend largely on the condition of the basement.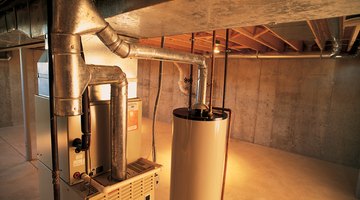 Things You Will Need
Area rugs
Tapestries or curtains
Armoire
Bookcase
Paint and supplies
Lighting
Dehumidifier
In order to make it work, a few simple design techniques may be used to produce a reasonably comfortable, functional bedroom for anyone in the family.
Repair leaks. Moisture is a common problem in basements, and one that will provide excellent opportunities for mold growth. Prior to any construction or design, leaky pipes, windows or vents should be repaired. If moisture is still a problem, invest in a dehumidifier. A little preventative maintenance will save money and reduce the risk of health problems later on.

Hang lights. This project will depend largely on the amount of finishing the space has. If no lighting or wiring is present at all, it must be added either by an experienced do-it-yourselfer or by a professional. Avoid harsh fluorescent bulbs, as they create a sterile, often uncomfortable feel. Opt for recessed can lights or track lighting, which may be strategically positioned to increase light in especially dark areas.

Paint walls. Adding color is going to be key in creating a comfortable space. For an unfinished basement, light colors are going to be ideal, as they give a sense of openness and light. White and pastels -- yellow, blue, green -- are all widely used. Be sure to use an appropriate primer coat and latex-based paint, which will resist moisture.

Purchase rugs. Since most unfinished basements feature concrete floors, adding area rugs will make a big difference. Not only will they make the space feel more complete, they will make walking on the concrete more comfortable.

Add some finishing touches. If studs are exposed or walls are otherwise unsightly, consider covering them. This may be done with visually interesting curtains, blankets or tapestries, or by adding some colorful wall art. Adding bright colored accessories, an armoire for clothing, photos and lots of pattern will make the space feel complete, comfortable and stylish.

Warning

Insulating the basement may be necessary to keep it comfortable.
References
Resources
Warnings
Insulating the basement may be necessary to keep it comfortable.
Writer Bio
Sara John is a professional writer and copy editor living in Des Moines, IA. She has worked professionally for seven years, and written articles for the Long Beach Press-Telegram, as well as other local publications. She is a graduate of Grand View University and holds a B.A. in journalism.
Photo Credits
Comstock/Comstock/Getty Images
Comstock/Comstock/Getty Images
More Articles