How Long Does Paint Last on Walls?
Asking how long paint lasts on wall is similar to asking how long a big box of chocolates will last. It should last a long time, but in all likelihood, it won't last as long as you want it to. If the wall is located in a hermetically sealed room, it may last forever, but life happens.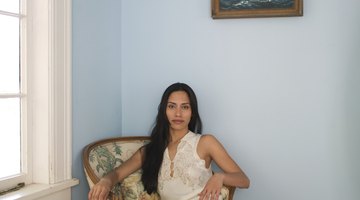 The life span of an interior paint job will vary depending on a number of factors.
Choosing the Paint
You may be tempted to choose your paint based on the warranty offered by the manufacturer. It is not unusual to find warranties for 25 years or even a lifetime. The cost of the paint routinely increases with the length of the warranty. While a better quality paint may have a greater life span, consider your lifestyle when choosing a paint. If you bore easily and frequently redecorate, you may find yourself repainting every five years or less. If you are content with neutral colors or detest painting, a better quality paint may be a better choice. Keep in mind the warranty only covers manufacturer's defects. Proper wall preparation and paint application may influence the paint's longevity more than the paint itself.
Paint Finish
Choosing the appropriate paint finish can affect the life span of your paint job. Flat-finish paint covers well, but is more difficult to clean than glossier finishes. Use flat-finish paint in low-traffic areas such as living rooms, dens and master bedrooms. Eggshell and satin finishes are glossier than flat, but less glossy than semigloss and gloss. In general, the glossier the finish, the easier the surface is to clean. Use glossier finishes in high-traffic areas such as children's rooms, kitchens, bathrooms and laundry areas. Keep in mind, high-gloss paint will highlight surface blemishes and painting mistakes such as brush and roller strokes.
Rentals
In most jurisdictions, landlords are required to use lead-free paint and repair damaged or peeling paint, but are not required to paint on any routine basis for aesthetic reasons. However, many landlords make it a practice repaint interior walls prior to every change of tenancy. Holes in walls from hanging pictures, or worse, are common when dealing with rental property. Scrapes in the paint frequently occur during the moving process. A fresh paint job entices prospective tenants and makes it easier to assess damages when they leave.
Children
The presence of children may affect the lifetime of your painted walls in several ways. Your choice of color and decor for a nursery may become quickly outdated as your child grows and develops his own individual personality and color preferences. Crayons, markers and sticky fingers manage to find their way on almost every surface in a house. If you have children in your home, especially small children, it is not unrealistic to need to paint interior walls every two to three years.
References
Writer Bio
Judy Prather began writing fiction in earnest in 2004. Writing as J.A. Anderson, Prather's debut novel, "Stolen Memories," was published in 2007. She also has experience as a therapeutic recreation specialist. Prather holds a bachelor's degree in therapeutic recreation from Winona State University.
Photo Credits
Felipe Dupouy/Digital Vision/Getty Images
Felipe Dupouy/Digital Vision/Getty Images
More Articles